Image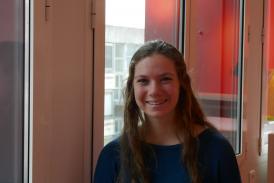 Contenu sous forme de paragraphes
texte
Could you please tell us a little about yourself?
I'm a junior at St. Lawrence University in upstate New York, where I'm majoring in conservation biology, with a concentration in French studies. I'm currently taking B2 level courses at the CIREFE.
What motivated you to come to Rennes and the CIREFE?
I started French a few years ago in college but I've been really wanting to improve my language skills. When I learned about the CIEE exchange program, I thought it presented a great opportunity to really dive into an immersion program. I'm here at the CIREFE for the semester, and I hope that when I go back home I'll have really improved in French.
What is a typical day like for you this semester?
Each day is fairly different depending on which classes I have. I have anywhere from 1-3 classes a day. I wake up in the morning, interact with my host mom (we often go for a run together in the morning), and then I go to the university for class. Once on campus, I meet up with my American friends for lunch, and, at the end of the day, I go back and meet my host mom for dinner. I feel like I'm really well-matched with my host mother. She's really patient with my level of French so that even when I can't find the words I'm looking for, she goes the extra mile to try and help me.
How do you find the classes at the CIREFE?
I really like the classes. They're definitely hard, but that's because the lessons are taught exclusively in French. At home, my classes would be mixed with some English being spoken in the classroom. But I think think the method here definitely helps us to progress much faster. Outside of French, the teachers at the CIREFE don't cater to any specific language when interacting with the students. They can't really because the classes are filled with students from all over the world, and that in itself is a really wonderful experience as well. I'm meeting people with backgrounds entirely different from mine and hopefully making some lifelong friends that I'll be able to interact with once I return home.
If you had to choose 3 words to describe your experience:
Bold, challenging and fulfilling
Do you have a favorite word/phrase in French?
I love the way that the French change the way they say hello throughout the day: bonjour, bon apres-midi, bonsoir, bonne soirée et bonne nuit!