Image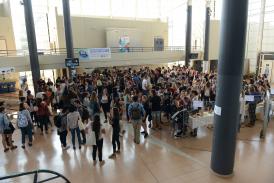 Contenu sous forme de paragraphes
texte
Are you a new international exchange student and looking for information on classes, programs or just looking to find your way around campus? 
Our Welcome Week, organized by the International Office, can help to orient you on all of these topics.  The week presents opportunities to meet and speak with faculty and staff from all parts of the university. Information meetings will be organized in partnership with the department coordinators, the CIREFE, SCD, ESN... 
Students from Rennes 2 who have already spent time studying abroad will also be there to help newcomers with questions they may have. 
On our main (Villejean) campus, several tours will also be proposed to allow students to discover useful resources and buildings. If you're looking to get to know Rennes and the surrounding areas, visits around the city as well as the Mont Saint Michel are being planned.
The next Welcome Week for international exchange students will take place from 14-18 January 2019, on the Villejean campus.
See the program of events here.
Don't forget to note the dates and times of the mandatory meetings.