Image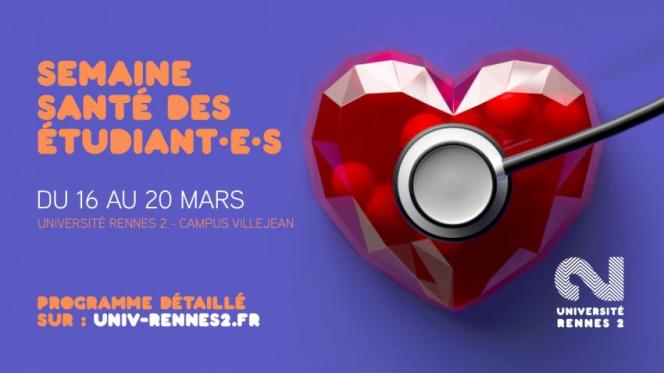 Contenu sous forme de paragraphes
texte
Rennes 2 University is committed to promoting student health.
From March 16 - 20, 2020, Rennes 2 is launching its first "Health Week" on the Villejean campus. Various activities will be offered to students (workshops, conferences, screenings, debates...) to help them take care of themselves during their studies.  
Organized by Patricia Legris, Vice-President in charge of health, solidarity and social support, our students are invited to attend one or several workshops or visit information kiosks available on campus on these topics and more: 
Healthy and sustainable food

Consent and relationship to the body

Cinema-debate on the documentary Arte "Brain-food"  

"Zero Waste" Workshop

Mental health and illness workshops

Workshop: Self-confidence through Positive Psychology

Gender and mental health: historical landmarks and contemporary issues

 

Financing dental care
This event is also being organized with the support of the Rennes 2 Communications Office, the Student Health Centre (Service santé des étudiant·e·s -SSE), the Office for Students with Disabilities (Relais Handicap) and the common documentation service, several student organizations (Ar Vuhez, Handi Rennes 2, l'Epicerie gratuite, Commune Vision...), several Rennes 2 staff, and in partnership with the CPAM, the Mutualité française, the Mutualité Bretagne, the Family Planning and URAPEDA Bretagne.
The full program of planned events is available here: https://www.univ-rennes2.fr/calendar_rennes2/event/14728