Image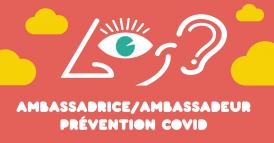 Contenu sous forme de paragraphes
texte
What is a COVID Ambassador? 
Covid ambassadors are assigned to answer students' questions and direct them to the appropriate services as needed. They make sure that they explain the systems and protocols set up by the university, and increase awareness of the importance of respecting health measures and social distancing. 
Each ambassador has been trained to provide information about the virus, health promotion, resource centres and various aids available to students.
Offices in the Érève building and in Building B
Students are on duty on the Villejean campus at two locations: an information booth in the Érève building during the opening hours of the Épicerie gratuite (Rennes 2's free grocery pickup) and a booth in the Central Library (Building H) .
Other ambassadors will be available to assist students on the group's Facebook and other online devices.
Missions of the ambassadors 
 inform about the measures put in place at the university and support offices to be contacted,
 combat student isolation,
 distribute masks to students,
 raise awareness on social distancing and respect for health and safety measures,
 prevent risky behaviors in terms of spreading the virus.