Image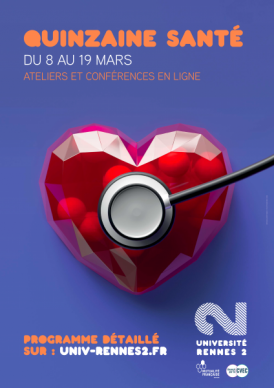 Contenu sous forme de paragraphes
texte
Rennes 2 Quinzaine Santé: Health and Wellbeing at the forefront! 
From March 8-19, 2021, Rennes 2 is organizing the event "Quinzaine Santé" (Health and Wellbeing Days) Centered around the theme of mental health,  we will be offering conferences and workshops for students and staff.
Join us for this free online event to get lots of useful information.
The remote access links will soon be available.  
On the program for students: 
Positive Communication Workshop 
Discovery walk medicinal plants (on-campus and limited to 10 people at once)
Conscious Breathing 
Self-confidence Workshop
Happy Quiz 
Virtual Escape game - emotion management
And much more