Image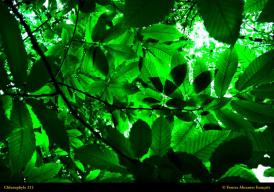 Contenu sous forme de paragraphes
texte
Exhibition organized as part of the Verdoyons Festival, a series of events on ecology and sustainable development at Rennes 2 University.
Born in Melun in 1966, François Fontes Abrantes grew up on a farm in Seine et Marne and was thus in direct contact with nature from an early age. He discovered photography in the army, a medium that would never leave him. He then worked as a filter shooter at the photojournalism agency Sipa-Press in Paris and then for Unicef. "Then, trees caught my eye 4 years ago ... It opened up an artistic direction I didn't think I had."
Since 2016, François Fontes Abrantes thus begins a work of portrait photography of common trees starting first around his home, then around the world. In total there are more than 150 trees that have been photographed and reworked with the help of light. His work is above all a poetic work that questions the hidden face of these living beings that summon the imagination. Isn't the invisible charged with meaning, energy, dialogue, another type of life? The artist thus questions our perception of reality and our sensitivity. He takes a tender look at nature, full of humility and respect.
François Fontes Abrantes is also the author of the photo book "L'arbre d'énergie" (The Energy Tree) published in 2008, which includes 100 unpublished images.