Image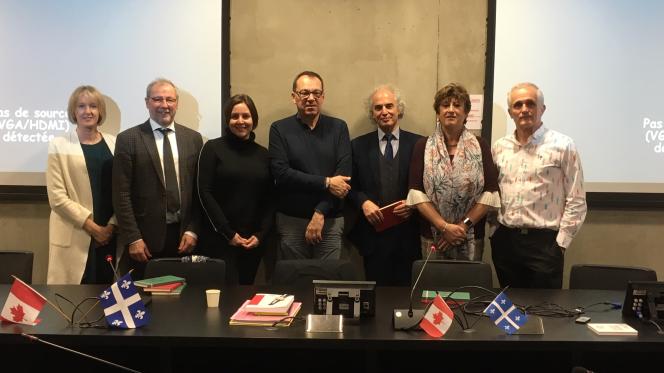 Contenu sous forme de paragraphes
texte
On Friday, December 13th, Rennes 2's research center TEMPORA (EA 7468), with the help of the GIS: Institute of the Americas (IDA-Rennes), hosted a day of discussions around various research and mobility collaborations related to Canada. Attending the seminar as guests of honor were faculty from the Université de Québec à Montreal (UQAM), alongside faculty from new Rennes 2 international partner Concordia University. The goal of the day was to highlight the important and varied work done in the field of Canadian studies at our institution and in Rennes in general, while underlining the interdisciplinary nature of these works through collective or individual research projects. 
The conference was opened by Marc Bergère, Rennes 2 Professor of Contemporary History and main organizer of the seminar. He stated that "Canadian studies are alive and well at Rennes 2," after presenting a short summary of the different research projects completed in fields such as health, cinema, and history, among others. "There exist 50 theses on Canada, 22 of which were defended at Rennes 2 (mainly since the early 1990s), in literature, language, science, sociology, geography, history, and American studies but also in art history, sports sciences, English, and musicology." He also noted that our University Library has a particularly rich collection relating to Canadian studies, including: 2,423 monographs in the fields of social sciences (history and geography), human sciences, literature (in English and French); and 74 periodicals (from all disciplines) that focus exclusively or partially on Canadian perspectives.
Following the opening address, participants held a roundtable discussion moderated by UQAM guest Catherine Mounier, Vice President of Research, Creation and Dissemination and Lesley Lelourec, Rennes 2 Vice-President in Charge of Internationalization. Professor Mounier pointed out that, "This historical partnership has particular importance for us at UQAM, in that Rennes 2 closely resembles who we are as an institution,". Dr. Lelourec emphasized that, "despite a decrease in the number of student mobility exchanges between the two universities, both partners are committed to exploring other equally interesting forms of research and pedagogical intercultural experiences,". One example of this is the program, Technes, an online collaborative research project on film techniques and technologies in which Rennes 2 and UQAM students exchange on a weekly basis.
Other roundtable guests included Concordia University faculty members André Roy, Dean of the Faculty of Arts and Science and Emilie Champagne, Senior Director at the Office of the Dean, Faculty of Arts & Science. While Concordia is a new partner of Rennes 2, both universities iterated the hope that they will be able to concretely work together through, for example, the organization of an international summer school. 
Also invited to present during the roundtable were Fanny Brugnon, Lecturer in History and Head of collaborative project on Gender Studies with UQAM and Lucile Chaput, Winner of the Master's Prize by the Association française d'études canadiennes (AFEC) for her work in history and international relations (co-directed at UQAM and Rennes 2).  Both provided brief presentations on their personal experiences as researchers working in Canada. 
Members of the seminar also discussed how it was important to show the added value of research conducted in Canada: specific Canadian expertise in health research protocols (cancer, autism) and in pedagogical or educational support. Professor Bergère stated, "I went to Canada as part of my postdoctoral studies, which was about the exile of French collaborators from Quebec. I discovered a different scientific and academic environment. The Canadian context has allowed me to mobilize new sources and appropriate another historiography, but also to accept the possibility of a plurality of points of view. This experience shifted my gaze and changed it."