Image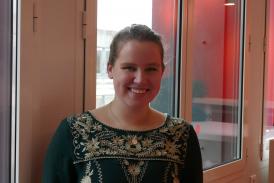 Contenu sous forme de paragraphes
texte
What motivated you to come to study in France and why Rennes?
I'm a junior at Hobart and William Smith Colleges in Western New York, where I study theatre and French as a double major. For me, the choice to come to France was the final step in completing my French major. How else can you really get exposed to a culture besides actually living and being immersed in that culture. So coming to Rennes and to the CIREFE, was really the best way to do that.
My school has a couple of different French programs that they propose to students, but the CIEE program in Rennes was the one that offered complete immersion. You are with other international students, but your lingua franca is French, you're living with a host family, all of your activities are done in French, and all of your classes are in French. So even though you're with other American students, the idea behind it is that you're interacting, on a quotidien level, in French.
What's a typical day like for you:
I wake up and have a morning chat with my host family in French. Then I prepare for the rest of my day - my earliest class on some days is at 8:30. If I have a bit of time before class, I'll work from home over a cup of tea, doing a little reading, etc. I have 2 hours of actual intensive French studies per week. Most of my other classes are electives, so I'm studying French but in different capacities. My electives are on subjects like cinema, literature through theatre, and written comprehension by talking about things that are interesting to me (environmental or cultural issues for example). So a typical day for me is just discussing those these varying topics but in a different language!
It sounds like the choice to be able to study French through elective courses is a good one for you.
Yes, very much. It's helping me to start thinking of French as more of a language, embedded in its culture, rather than just part of my major. As opposed to abstractly studying grammar and rules, I actually get to use it as a means to communicate on so many other things.
If you had to choose three words to describe this program, what would they be?
Rewarding, challenging and surprising!
Do you have a favorite French word or phrase?
Sacrebleu!
I finally learned the origin of this phrase in one of my theatre classes.  Sometime around the 17th century, this phrase was modified from what was originally 'sacredieu' (which could be translated as sacred God). The French replaced it with 'sacrebleu' in order to avoid blasphemy and religious consternation. For an English-speaker, it's enlightening to know that it comes from something else and it's not just about sacred blue!