Image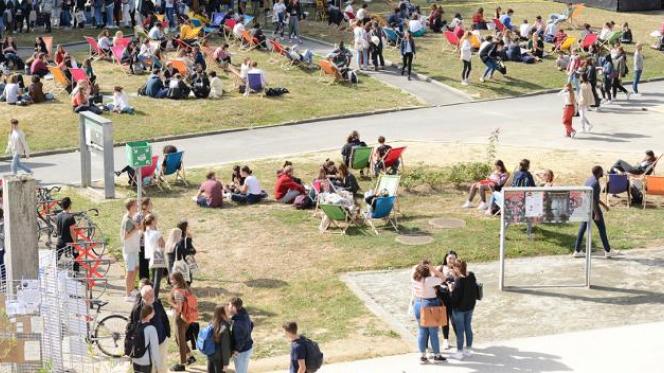 Contenu sous forme de paragraphes
texte
Whether you're arriving as an exchange student or a student enrolled directly in one of our degree programs, we invite you to join us for orientation meetings designed to facilitate your arrival and integration on our campuses. All international students should also visit the following page for more tips and information on preparing their arrival. You can also find the official academic calendar for 2022-2023 here.
Students enrolled directly in a degree program at Rennes 2
Our pré-rentrée program will be held from September 1st, 2022 on our Villejean and la Harpe campuses.  
The pre-rentrée event is an important week of meetings which allows students to meet staff from their various departments. During this week, you can register for courses and become familiarized with administrative and teaching staff and procedures in their program. Students are notified by their respective departments of the dates and times of their meetings. During the week, students will also have the opportunity to visit information booths held by: the DÉVU, Sports (SIUAPS), CPAM (healthcare insurance),  Relais Handicap (the Office for Students with Disabilities), the Service Vie Étudiante (Student Life Office), transportation services, university lodging and restauration services and more.
In Rennes, from September 1st to 6th:
Pre-entry schedule for Licences 1 (first year bachelor program students)
Pre-entry planning for Licences 2 (second year students
Pre-entry planning for Licences 3 (third year students)
For L1 musicology students: the placement test will take place in the auditorium "Le Tambour" (Building O, first floor) on Friday, September 2, 2022 from 9am to 10:30am. Presence is mandatory. For more information, please go here.
In Saint-Brieuc, from September 1st through the 23rd:
The schedule is available here. 
Masters level students:
1st year students can find the department meetings schedule here. 
2nd year students can find the department meeting schedules here.
International Exchange Students
Semester 1 Welcome and Orientation Week will be held from September 5 - 9, 2022. The Welcome Week is designed to familiarize students with their new university environment, you learn the basics like: how to register for classes, get a student card, or open a French bank account. Several guided tours are also proposed: campus,  libraries, the city of Rennes and even the Mont Saint Michel. Information meetings are organized with/by the International Office and department coordinators. Please note that attendance is mandatory. You should receive all the necessary information directly by mail from this office. 
For more information on the events offered during the week, please go here. The official program for the week will also become available soon here. 
For any questions, please contact the International Office:
international [at] univ-rennes2.fr 
+33 2 99 14 10 92  
Secretariat Office: D307 (Building D)
Students of the Cirefe (Rennes 2's French-language learning Center)
The CIREFE also organizes separate welcome and orientation activities for their students. Semester 1 preparatory activities will be held on: Monday, September 5th and Tuesday 6th, 2022. Students enrolled in Cirefe programs will be notified by the Cirefe directly.
For any questions, please contact the CIREFE offices directly for information on activities planned:
cirefe-contact [at] univ-rennes2.fr
+33 (0)2 23 22 58 20  
Secretariat Office: D328 (Building D)
---
Other welcome events to keep in mind
texte
When: Thursday, September 8, 2022 from 11am to 6pm.  
Hosted by: the CMI Rennes, the CROUS and their partners invite you to join them to gather important information for international mobility students!
For: All Rennes 2 University International Students (students from other Rennes-based higher education establishments are also invited). 
What's planned: a welcome event on Come and share a friendly time, get informed and meet other students!  What's on the agenda: information points and welcome packs for newcomers, entertainment, gifts, guided tours of Rennes city centre and the Champs Libres, information stands run by the CMI's partners, booking of the CMI's 2022/2023 Cultural Agenda to visit Brittany and enjoy the cultural life of Rennes at a very low price!
Image

Image

texte
Semaine Campus / Campus Week
This event takes place over the course of 2 days  and is dedicated to helping all Rennes 2 students get to know their new campus and students services available to them in a convivial way.  University services  and organizations that help students get informed on housing options, food services, sports activities, cultural events, health and insurance, and many others types of information are present each year. 
Don't miss the International Desk on the afternoon of Sept. 13! Meant for all international students as a one-stop help desk, university staff can help point you in the right direction to find answers to any questions you may have.
When: September 13 - 14, 2022 (International Desk on September 13th only)
Where: Rennes 2's Villejean Campus
Contact: s-communication [at] univ-rennes2.fr