Image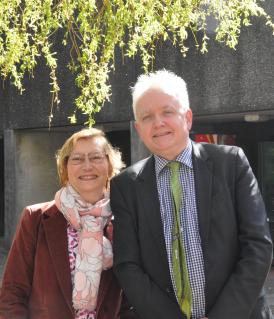 Légende
Professor Catherine Malecki and Professor Owen McIntyre
Contenu sous forme de paragraphes
texte
An Erasmus partnership in the field of law has been created between Rennes 2 University and the UCC School of Law, ranked among the world's best Law Schools in the latest QS World University Rankings (2023). The cooperation was initiated by Professor Owen McIntyre, Director of the LL.M. (Environmental & Natural Resources Law)  and Co-Director of the Centre for Law and the Environment, and coordinated and with the help of the International Relations Office at Rennes 2. 
Within the framework of this partnership, courses on the theme of sustainable finance and seminars (e.g., research challenges and methodologies in CSR or sustainable finance) have helped to forge links between the two institutions. Professor Catherine Malecki's research and teaching experience in the areas of corporate governance, corporate social responsibility, sustainable finance and climate change is a valuable resource in this context. Issues related to the challenges of managing the environmental and climate crisis through sustainable finance are also part of the second axis of the LiRIS research group of which she is a member.
On on April 20, 2023, Professor Owen McIntyre organized the international conference: The Law and the Environment 2023 19th Annual Conference, which was very well known and brought together a large number of academics. This scientific event was the occasion of very rich scientific meetings. Professor Malecki gave a presentation titled "The European Roadmap for Resilience Finance: Taking Care of the Planet". 
Image

Légende
From left to right: Professors Owen McIntyre and Catherine Malecki, with Professor Mark Poustie (Dean, UCC, School of Law) and Professor Patrick Parenteau (Visiting Fulbright Scholar at UCC Centre for Law & the Environment)
texte
---
Professor Catherine Malecki is a member of the research group LiRIS, as well as being an associate member of the Institut Droit Ethique Patrimoine, Paris-Saclay University, France, and an external member of the Institute of Commercial and Corporate Law, Durham Law School, Durham University, UK. She is also a member of the Institut universitaire de France (IUF). Her main research themes are business law (corporate governance, corporate social responsibility, sustainable finance, corporate law), comparative business law (English-speaking countries), sustainable and climate finance.
Professor Owen McIntyre is Director of the LL.M.  at the UCC School of Law and Co-Director of the Centre for Law and the Environment. His principal area of interest is Environmental Law, with a particular research focus on International Water Law. He serves on the editorial boards of a number of Irish and international journals and is the General Editor of the Journal of Water Law (Lawtext Publishing). He has served as inaugural Chair of the IUCN World Commission on Environmental Law's Specialist Group on Water and Wetlands, a member of the Scientific Committee of the European Environment Agency as an expert on European and International Environmental Law, and as a member of the Project Complaints Mechanism of the European Bank for Reconstruction and Development (EBRD).