Image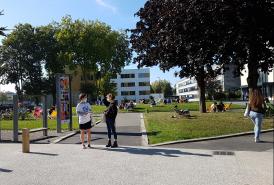 Contenu sous forme de paragraphes
texte
September 24, 2020
The information presented below summarizes the key points of the guidelines which are available in full on the University's intranet. 
These measures may evolve in accordance with new regional, departmental or national recommendations.
In addition, on each of our three campuses, we have implemented a communications campaign (complete with physical signage, posters, and other support material) in order to increase student and staff awareness of the general rules and practices against COVID-19. 
texte
Health Questions and Guidelines
Unsure what to do if you are feeling sick (fever and/or cough, difficulty breathing, speaking or swallowing, loss of taste and smell)? 
Self-isolate at home if you suspect you may have Covid symptoms,

until you are able to be tested or see a medical professional.

Information on a testing center close to the Villejean campus

can be found here

. More information on other testing centers can be found on

the intranet

. Information on the Student Health Center is listed at the end of this document. 
Have you been in contact with someone who has a confirmed case of Covid? This chart explains the steps to follow.
If you have a confirmed case of Covid, self-isolate and follow the procedures available on the University's intranet. Don't forget to notify your academic department, by filling out the form available here.
You can also send any related questions to: etudiant-covid19 [at] univ-rennes2.fr (etudiant-covid19[at]univ-rennes2[dot]fr).
---
texte
Other Key Rules and Practices
Wearing a mask is now obligatory, inside all University buildings as well as on the outdoor premises of our 3 campuses.

Apply physical distancing rules between you and others (minimum 1 meter distance).

Avoid touching your face. 

Wash your hands or use hand sanitizer gel regularly throughout the day.

Cough and sneeze into your elbow or single-use tissues and wash your hands once done.

Check your inbox daily to stay informed of important local information.
texte
Masks
All students, staff as well as the general public must wear a mask in all closed and open spaces on our three campuses.  Any member of the staff, administrative as well as teaching, is entitled to refuse access to the premises to anyone not wearing a mask. Please note that masks should be changed every 4 hours. 
Students are responsible for procuring their own masks in order to comply with health regulations. However, on an exceptional basis, students who need to obtain a mask may go to different points:
Villejean Campus: Erève kiosk from 8:00 to 10:00 a.m. or 12:00 to 2:00 p.m.

Campus La Harpe: Building Reception, open from 9:30 a.m. to 12:30 p.m. and from 1:30 p.m. to 5 p.m.

Mazier Campus: Main Reception, open from 9am to 12pm and from 2pm to 5pm (closed on Friday afternoon).
Classes
Wearing a mask is obligatory.
Before and after class, everyone should clean their hands with soap or a sanitizer gel. Gel dispensers have been made available within our buildings and in specific classrooms.
For amphitheatres, seating is limited to 1 out of 2 seats.

The transmission of documents during a course session must be carried out by a single person who has previously cleaned their hands.

Students who occupy a room for several hours must sit in the same seat when they return from their break.

When exiting a lecture hall, students should exit row by row.
Breaks
During lunch and other breaks, it is important to maintain a physical distance with others and avoid crowds of more than 10 people.
Faculty and Department Reception Desks
All reception desks open to the public are equipped with plexiglass protection. Wearing a mask is still  mandatory, the plexiglass being an additional preventive measure. Only one visitor at a time per office is allowed.
Libraries and other similar collective spaces
Remember to wear a mask and frequently wash your hands. 

The capacity of library reading areas have been reduced due to the application of the health rules.

Follow the specific rules posted at the entrance of the common spaces

(including but not limited to: coworking spaces, restaurants, sports halls, etc.).
University Restaurants
CROUS' university restaurants are accessible with a limited capacity and

students must respect the posted guidelines

. An interactive map will be made available to help you to locate the different available seating spaces.

Particular attention must be paid to the physical distance between individuals  (minimum 1 meter). 

While at the restaurant, remember that as soon as you have finished eating, or if you need to get up for any reason, you will need to immediately put your mask back on again.
Shared Equipment
Remember to wash your hands before manipulation of shared equipment such as computers, coffee machines or microwaves.

For the computer rooms, students must wash their hands before entering the room, and wash their hands regularly during the activity (hydo-alcoholic gel available in front of each room).

Material will be made available to clean shared equipment in rooms after use (e.g. art rooms, musical instruments).
Elevators
For the use of elevators, the presence of only one person per elevator is the rule. Priority is given to people with reduced mobility.
Cleaning and disinfection
Reinforcement of the cleaning and disinfection of the premises is implemented by the maintenance staff.
Events and Gatherings
Events organized on our campuses must respect the general health rules described above.

Presently, social events, buffets and other social gatherings such as buffets are identified as favourable situations for the circulation of the virusand if possible should be avoided or postponed.

Official event requests will be studied on a case-by-case basis by our General Services Office. 

The university strongly advises against the organization of festive gatherings by students even in the evenings or weekends. These are currently forbidden on campuses. 

As a reminder, students can always benefit from the student health service (

sse

[at]

univ-rennes1.fr

(sse[at]univ-rennes1[dot]fr)

).
texte
The Student Health Centre 
The Student Health Centre (Service santé des étudiant·e·s - SSE) accompanies students through their education, providing preventative and medical services, and offering assistance to students with disabilities. A team of doctors, psychiatrists, psychologists, nurses and reception staff are at your disposal and easily accessible from our Villejean campus. 
Special rules for suspected Covid cases: 
It is important to be attentive to the appearance of any clinical signs. Students must remain in their accommodation when they have symptoms (fever and/or cough, difficulty breathing, speaking or swallowing, loss of taste and smell) and must have a consultation or teleconsultation with their physician or a SSE doctor without delay. Students must apply the same recommendations if someone in their home has these symptoms.
Villejean Campus: 
Monday - Friday, from 8:30 a.m. - 5 p.m.
Érève Building, 2nd floor
Telephone 02 23 23 70 86 or  02 23 23 70 85 
simpps [at] univ-rennes1.fr (simpps[at]univ-rennes1[dot]fr)
Saint-Brieuc Campus: 
Monday through Friday, from 8:45 a.m. - 12:15 p.m. and from 1 p.m. to 5 p.m. 
The office closes early on Friday at 4:30 p.m. 
Telephone: 02 96 60 81 61