Image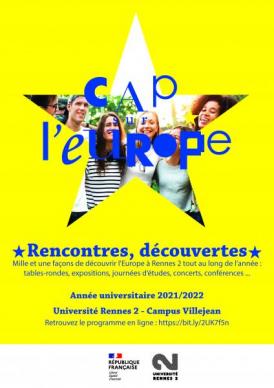 Contenu sous forme de paragraphes
texte
The beginning of this academic year 2021-2022, Rennes 2 will be starting a new forum for  Europe-related subjects and discussions. Grouped under the label, "Cap sur l'Europe", the series of events are designed to give greater visibility to Europe, within the institution and beyond, for all audiences: academic and administrative staff, students, and the general public.
In line with the University's international strategy, the creation of this series should help to provide our community with opportunities to discuss major contemporary European societal topics and challenges, whilst promoting an international culture within the university and the surrounding community. 
Cap sur l'Europe events will also highlight the skills and knowledge of the larger Rennes 2 community, whether it be our academic community, artistic and cultural actors, or local and regional institutional partners around the European theme. Our establishment's international partners will also be invited to participate whenever possible to contribute their perspectives. The overall objective is to encourage meetings, discoveries and discussions in a spirit of openness, diversity and creativity through round-tables, exhibitions, seminars, concerts and conferences.
Kickoff event with Erasmus Days
The first main Cap sur l'Europe event will be the occasion of Erasmus Days, to be celebrated at Rennes 2 on October 14, 2021. On this day, students will be able to get information on: international study mobility programs, internships and language assistantships. A presentation of ESN and the buddy system will also be held, which will inform students on the possibilities of "mentoring" international students who are already on the Rennes 2 campuses. Students looking to find out more information Erasmus can also check the "experiences display" (for stories from students who have already participated in mobility projects), available in the languages building. 
Meanwhile, Rennes 2's Didactiques des Langues program will offer Open Educational Resources (OER) creation training - focusing on learning the 5 Rs of designing OER courses, as well as training on the creation of an Escape Game. In parallel, University staff will have the opportunity to find out what mobility opportunities are available to them during meetings organized by the International Office. There will also be a screening of the documentary film "L'auberge européenne", by Cédric Klapisch.
A diverse offer throughout the year 
The yearly program will include 4 main events throughout the first and second semesters, but the complete program will also include previously existing Europe-centered events. A few examples of these occasions include: 
events of European Heritage Days, 

the centennial celebration of the teaching of Portuguese in Rennes

several screenings of European films at the Rennes 2's

Ciné-Tambour

Round-table discussion of Danté and popular culture (with Rennes 2 teacher-researcher Claudia Zudini of the Italian Department and other invited guests)

Conference and Roundtable:

Regards-Croisés

(more information to come soon)

Live Performance: BD Concert -

Les Oiseaux ne se retournent pas

(concert  and theatre)
The program will be elaborated upon and updated throughout the year. For more information on specific upcoming events, please go here. 
---
Cap sur l'Europe events are organized by Rennes 2's International Office and in collaboration with other university services and institutional partners.