Image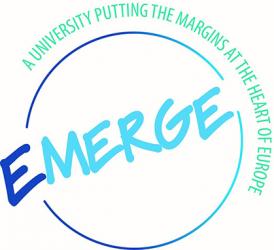 Contenu sous forme de paragraphes
texte
The following is a summary of an article published in French (full article available below).
Since the beginning of the academic year, the EMERGE (Empowering the Margins of Europe through Regional and Global Engagement) partner universities have been actively engaged in strengthening their cooperation in the fields of teaching and research, with the preparation of two new Blended Intensive Programmes (BIPs) and a Horizon Europe research program. A BIP is an Erasmus+ program that enables students and staff to combine a short international physical mobility (5 to 30 days) with a virtual activity before, during or after the physical mobility.
New joint projects
As part of this collaboration, the consortium is currently preparing the following projects:
(BIP) inclusive pedagogies centered on teaching while taking into account the trauma of refugees
(BIP) skill development for doctoral students
(Horizon Europe) strengthening Europe's linguistic capital (currently being set up)
Upcoming events
At the end of October, the partner universities will organize a three-day working session on the campus of the Universidade da Coruña in Galicia (Spain), focusing primarily on the research aspect of the application.
In mid-November, the members will meet again in Brussels with the university presidents to reaffirm their commitment to the project and the sharing of a common vision.
In January, the project will be finalized for submission in early February 2024, with a view to the selection of 10 new European universities in the summer of 2024.
At the end of June, Université Rennes 2 plans to organize a Staff Week, a time for exchanging ideas over a few days with counterparts from other universities to work on common themes, discuss best practices and learn from each other. The Staff Week will be the result of inter-departmental collaboration: CIREFE, the International Relations Department and the Pedagogical Support Department (formerly SUP).
---
Consortium EMERGE : nouveaux efforts de collaboration prévus pour 2023-2024
Le consortium se prépare à une année riche de discussions et de réunions communes, de projets conjoints et d'événements coordonnés, alors que les neuf universités partenaires renouvellent en 2024 leur candidature pour intégrer le réseau des Alliances d'universités européennes. Cinquante alliances européennes ont été mises en place depuis 4 ans et regroupent plus de 430 établissements européens.
Depuis la fin du mois d'août, les universités partenaires EMERGE - Empowering the Margins of Europe through Regional and Global Engagement - s'activent à poursuivre le processus de renforcement de leur coopération en matière d'enseignement et de recherche, notamment avec la préparation de deux nouveaux programmes intensifs (Blended intensive programmes – BIPs) et d'un programme de recherche Horizon Europe. Un BIP est un programme Erasmus+ qui permet aux étudiant·es et aux personnels universitaires de combiner une mobilité physique courte à l'international (5 à 30 jours) avec une activité virtuelle avant, pendant ou après la mobilité physique.
De nouveaux projets communs
Dans le cadre de cette collaboration, le consortium est en train de préparer les projets suivants :
(BIP) les pédagogies inclusives centrées sur l'enseignement et tenant compte des traumatismes des réfugiés (Inclusive pedagogies with a focus on trauma-informed teaching for refugees) 

 

Porté par : University of Limerick (avec la participation de l'UR2, INN University, Universidade da Coruña et Europa-Universität Flensburg)
Contacts : Anne Prunet (CIREFE) et Christine Evain (LIDILE)

(BIP) le développement de compétences pour les doctorants 

Porté par : INN University (avec la participation de l'UR2 et Matej Bel) 
Contacts : Cécile Sebban (SCD) Lesley Lelourec (Chargée de mission Alliance Européenne EMERGE)

(Horizon Europe) le renforcement du capital linguistique européen (en cours de montage)

Porté par : l'Universidade da Coruña (avec la participation de l'UR2, Europa-Universität Flensburg, Democritus University of Thrace, Matej Bel University et University of Limerick) 
Contact : David Le Roux (LIDILE)
En plus de ces nouveaux projets, certains partenaires du consortium travaillent déjà ensemble sur des projets spécifiques, dont deux projets Erasmus + : TELME, un programme de master Erasmus Mundus pour l'enseignement dans un environnement multilingue, et TRIP (Training and innovations in Internationalisation at Home Pedagogies - Formation et innovation pour les pédagogies de l'internationalisation à domicile). 
Des événements à venir
A l'occasion de la Conférence Générale de la European Association for the International Education (EAIE), le Comité de Pilotage EMERGE se réunira le 27 septembre à Rotterdam et organisera un atelier de travail sur les points d'amélioration identifiés lors de la dernière évaluation de la candidature EMERGE.
Fin octobre, les universités partenaires organiseront une session de travail de trois jours sur le campus de l'Universidade da Coruña, en Galice (Espagne), axée principalement sur le volet recherche de la candidature.
À la mi-novembre, les membres se réuniront à nouveau à Bruxelles avec les président·e·s d'université pour réaffirmer leur engagement au projet et le partage d'une vision commune.
En janvier, le projet sera finalisé pour un dépôt fixé début février 2024 en vue de la sélection de 10 nouvelles universités européennes à l'été 2024.
Fin juin, l'Université Rennes 2 prévoit d'organiser une Staff Week, un temps d'échange de quelques jours avec des homologues d'autres universités afin de travailler sur des thèmes communs, discuter de bonnes pratiques et se former. La Staff Week sera le résultat d'une collaboration inter-service : CIREFE, Direction des relations internationales et Direction d'appui à la pédagogie (anciennement SUP). 
Une forte collaboration depuis 2019
Les partenaires EMERGE ont démarré leur collaboration en 2019 pour soumettre leur première candidature à l'appel de l'action « Alliances d'universités européennes ». Depuis lors, le consortium n'a cessé de coopérer sur de nombreux projets. En janvier 2021, par exemple, un forum étudiant EMERGE (ESF) a été créé, offrant aux étudiant·es du consortium un canal pour discuter des différentes façons dont elles·ils peuvent contribuer à créer des avantages tangibles pour les étudiant·es de toutes les universités partenaires.
Ces efforts ont pour objectif de relever le défi de l'extension de l'espace éducatif européen et de mieux représenter les espaces situés à la « périphérie » qui caractérisent les établissements membres d'EMERGE. Alors que les partenaires ont chacun des cultures, des langues et des programmes de formation et de recherche différents, il s'agit de construire un projet structurant sur le long terme avec une approche ascendante qui soutiendra tous les domaines d'activités de l'enseignement supérieur et de la recherche, et qui favorisera de nouvelles formes de mobilité pour l'ensemble des étudiant·es et des personnels du consortium. 
EMERGE : 9 établissements partenaires
Outre l'Université Rennes 2, les partenaires EMERGE comprennent :