Image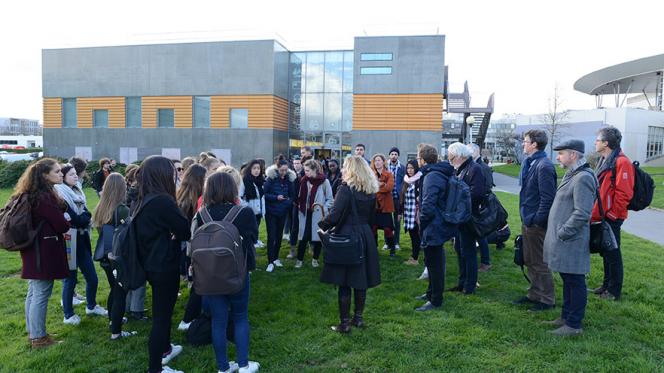 Contenu sous forme de paragraphes
texte
"We found that our campus lacked versatile places to develop collaborative and creative projects, relaxation areas where you can recharge your batteries and green spaces that offer amenity and biodiversity," explains Béatrice Quenault, Head of Sustainable Development Projects at Rennes 2 University. "We hope to address these shortfalls by developing this experimental space that will have a surface area of approximately 90 m2 in front of the Robert Poirier stadium."
Designed to be modular, ecological and adaptive, the space is part of an intercampus social project which focuses on the cooperative and circular economy. Designed with a triple vocation, the space will host:
a forum for cooperative support and projects, where community initiatives are welcomed (students, staff and/or residents, such as l'Épicerie gratuite, Récup'campus, etc.),

space for relaxation and conviviality,

and a creative space dedicated to student entrepreneurship and communal projects with a cultural and artistic focus.
"This project is part of a local and community-based approach where civil society organizations and local stakeholders work together on projects that promote common well-being. Its aim is to create spaces that encourage meetings and exchanges between diverse audiences on atypical time slots and opening days, by relying on its community network, and by offering services that are inadequately served by the market," said Béatrice Quenault.
ESS Cargo encourages the development of an innovative approach at all stages of its design. It is open to students, university staff, organizations, local residents and project partners. In order to guarantee this collaborative dynamic, the ZamZam agency proposes a service design to support the creation of feasible proposals, in line with the needs of future users of ESS CARGO, with particular attention given to the enhancement of users' expertise.
Launched in February 2019, the site's services are being carried out in two phases: an investigation phase (involving a group of approximately ten students from diverse backgrounds), and a prototyping and testing phase (involving a group of approximately ten future users  -staff, students and residents).
All this information will then be provided to the team of architects of BÂTI RÉCUP for the project design, development and management, to be coordinated at the pedagogical level by the Solar Bretagne Team in collaboration with Rennes 2 University, ENSAB, INSA Rennes and Rennes 1 University.