Image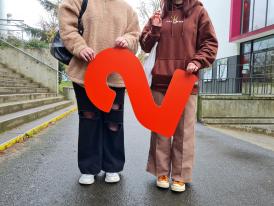 Contenu sous forme de paragraphes
texte
Following the adoption of the 'Charter for Equality of Women and Men' adopted by French universities in 2013 and the 'Law for Real Equality between Women and Men' in 2014, Rennes 2, in 2015, made the trailblazing decision to establish an equality mission within the University to promote gender equality, inclusion, diversity, accessibility and to fight against sexual and gender-based violence. Since then, it has found a large amount of support in student campaigns and events, as well as in its teaching and research-based activities. 
In 2022 alone, the institution has dedicated an estimated nearly 150,000 € to these crucial themes, including 18,500 € in student and campus life contributions (CVEC). In addition, these themes and related actions are regularly initiated by student organizations that receive funding from the Solidarity and Development Fund for Student Initiatives (FSDIE).
Image

texte
A few examples of these actions include:
Monthly conferences titled "Equality Tuesdays" (Mardis de l'égalité)

A cultural program throughout the year focused on the recognition of women artists, the promotion of equality and the fight against discrimination

The creation of an online reporting procedure to fight against harassment and discrimination

The creation and dissemination of a brochure against street harassment,

Training in the prevention of violence against women, harassment and discrimination

Work-life balance measures for staff (development of home office possibilities, parental daycare, etc.)

The creation of an "equality catalog" within the recreational ludotheque library

Translation of cultural events into sign language

Actions in favor of professional equality for female teacher-researchers and doctoral students

Support for student projects on this theme

The designation of equality advisors in each research unit

A Master's degree and an inter-university diploma in Gender Studies
On November 25th, 2022, Rennes 2 University will once again mark its commitment in this area by participating in the #OrangeDay campaign by raising flags in the official colors of the day of mobilization against sexual and gender-based violence (SGBV) against women. Various activities will be scheduled throughout the day in order to raise awareness among the university community on this occasion. Students and staff will be able to try out a selection of games from the new equality-themed section of the recreational library, which since the start of the academic year has offered a catalog of more than 20 references aimed at questioning and deconstructing clichés and prejudices. Students will also be able to find out about the reporting procedure, which has been in place since October, to effectively handle reports of harassment, aggression or discrimination against students.
Ahead of this day, two events will be held on November 22nd, 2022: 
At 5:30 p.m. at the Tambour (on the Villejean campus), Equality Tuesday: "¡Ni una menos! Fighting macho violence: from the law to its implementation": a conference by Glòria Casas Vila, sociologist at the University Toulouse Jean Jaurès, on the situation in Spain;

At 8pm at the Tambour, "Laboratoria: Y perdi mi centro": an experimental, multidisciplinary and feminist flamenco show.