Image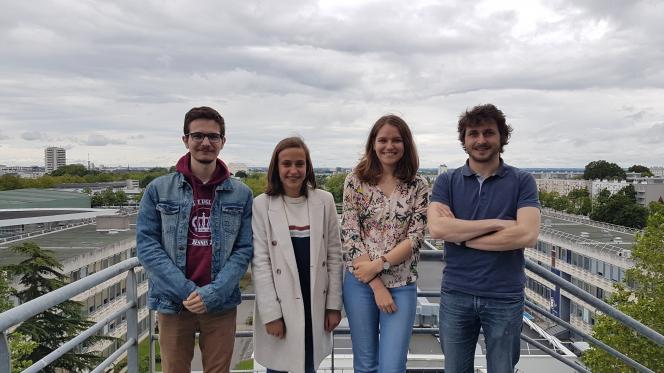 Contenu sous forme de paragraphes
texte
Four students from Rennes 2 University will be part of the select group of French graduates chosen to participate in the Fulbright Foreign Language Teaching Assistant  (FLTA) Program for the academic year of 2019-2020. 
Sponsored by the U.S. Department of State's Bureau of Educational and Cultural Affairs (ECA), the FLTA Program is based on cultural exchange and language-sharing in the form of teaching assistantships. For its international nominees, it offers the opportunity to develop their professional skills and gain first-hand knowledge of the United States.
Participants from over 50 countries will become teaching assistants in hundreds of American universities, and, combined, will be teaching over 30 languages. In France, out of 25 nationally selected nominees, four students from Rennes 2 University will be travelling to the U.S. in August - September to begin their posts. They will be teaching up to twenty hours a week in various educational activities designated by appointed supervisors. They will also have the opportunity to take two courses per semester in topics related to American culture, history or civilization. 
Rennes 2 University would like to congratulate all of the students chosen and wish them a good year abroad! 
***
Before embarking on their trip, we had the chance to speak with our four students: Léa, Vivien, Eloïse and Hadrien. Read on to find out how they got started on this adventure and some of their aspirations for the year to come.
texte
Could you please tell us a bit about your background?
I completed a Licence (the equivalent of a Bachelor's degree) in English in Brest, then I came to Rennes 2 to do a Master's degree in language didactics, which I have just finished. Next year, thanks to Fulbright, I am going to West Virginia to Bethany College as a French assistant.
Why did you apply to the Fulbright program? 
Having finished my Master's degree, I was hesitant to start teaching or doing research right away. This experience of teaching abroad for a year should provide me with enough time so that I can more confidently decide on my next move! I also wanted to travel, to discover another country, especially the United States. I have a degree in English, so clearly I'm very interested in the country. The Fulbright program was particularly interesting to me because, on top of the teaching experience, they help to fund the cost of the trip. Without it, I wouldn't have been able to afford to leave for a year. 
Have you ever been abroad before? 
Yes, I spent a few months in London and I did an Erasmus program in Romania. I get the impression that this previous international experience is something they are actively seeking in candidates' files.
Have you ever been to the United States? 
I spent a week in New York about ten years ago... But I think that New York and West Virginia are very different places, and, ultimately, it will be a very different experience. It's definitely going to be an adventure! 
Tell us about the matching of candidates to specific universities or areas. Was Bethany College your first choice? 
When we were completing our application file, we were asked if we prefer to go to a rural or urban area. I indicated that I was open to all proposals. Personally, I come from a rural area, and I don't mind going to another one. In the end, we received several offers and it was up to us to rank them according to our preferences. Bethany College was on my preferred list of choices.
What does your schedule look like so far? 
I will be giving a French language course for beginners and a civilization course, where I will speak about French institutions and France in general. The civilization course will be held in English and will be open to all students. Even though I am relatively comfortable with the language,  the idea of giving classes in English in front of a room full of native speakers intimidates me a little. I will also be going to a primary school to speak about French culture. 
In addition, throughout the year, I will be able to take two courses at the university. These courses are not credited, but are funded by the program. 
And where will you be staying in terms of accomodations?
I'll have my little apartment on campus!
Image

texte
Vivien, Dual degree Master's student in Language Didactics
texte
Can you tell us a bit about your educational background and previous experiences?
I completed my licence in English a few years ago. After that, I took some time off to live and work in the United Kingdom for a year as a language assistant in a private boarding school. When I returned to France, I obtained a position as an assistant in a middle school where I accompanied students with disabilities before resuming my studies. I am now finishing up a Master's degree in language didactics and digital humanities. I'm also currently completing an internship at the Rennes 2 research center  LIDILE through the end of this summer.
What motivated you to apply for the program?
These previous experiences were transformative for me. I'd like to continue learning and developing my career in the same direction, and an experience like this can really be life-changing. I'm leaving with the hope of being able to perfect my skills, and put into practice everything I have learned thus far.  I also hope to create a bigger professional network. 
Plus, the upper limit for participation in the Fulbright FLTA program is 30 years old, and I was 29 when I applied. It was now or never! 
What will your work program as a language assistant entail? 
Every week, I will give between 12 and 15 hours of classes and other workshops - I definitely won't have time to get bored! And like all the participants, I will need to take two classes, but I haven't chosen them yet. 
texte
What made you apply to the Fulbright FLTA?
I have always wanted to teach in secondary school. Now that I finished my English degree, it seems like an ideal time to take a break before continuing with a Master's program. My goal is to get some professional experience and the experience of going abroad. I hesitated before applying for the Fulbright program due to its reputation for being very selective, but I tried and I am happy to say I was selected! 
What are your plans once you arrive? 
I will have eight hours a week where I will be assisting a teacher with intermediate level French-language students and leading a few group classes. Once a semester, I will be responsible for organizing a large conference, open to the whole university, on French culture. 
Do you have any apprehensions about the trip? 
It's a little scary as I'm going to be giving classes to people my own age, or even a little older! I will also have to adapt to living in a large city of 50,000 people, even though I come from the countryside.
Do you have any advice for students who are thinking about applying?
You have to try and give 100 percent of yourself throughout the application process and overall project. Highlight your qualities and transversal skills, which are not necessarily linked to what the programme requires. It's really about letting the selection committee know who you are and your motivation. Do not hesitate to ask teachers for help, to proofread your letters and essays... Even if you are not selected, it is still an interesting experience. The interview process in Paris, for example, is a test in and of itself !
texte
Can you tell us about your background and motivation? 
I just validated my English degree. I have been an apprentice English teacher in a college in Rennes for two years. 
Initially, I was on the complementary list for the FLTA program, but I received a phone call to tell me that there was a spot available. The problem was that I had also applied for the CIEP Assistant Program and I had a positive response. I decided to go to follow my gut and choose the option that seemed the most difficult and rewarding for me! 
I have been preparing for this type of experience for about a year because, if you want to become an English teacher, it is extremely useful to have lived and worked abroad.
What will you do when you get there?
I will be teaching beginning level French courses to classes of 45 students. I have also been asked to give classes on French culture. I will lead language labs and work with the local French club seven. It will be mainly conversation. 
Do you have any apprehensions at this point?
I think it's normal to have some apprehensions about teaching in English (with my accent), having to adapt to the American school system, etc. Once there, I will be sharing an apartment with another person, and, like anywhere, you hope it will go well.