Image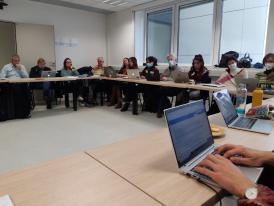 Contenu sous forme de paragraphes
texte
For the second time this year, the Service Universitaire de Pédagogie (SUP), or the Office for Pedagogical Innovation, at Rennes 2 held a milestone meeting last week to provide faculty with the opportunity to share their experiences, ask questions and gather information regarding the 'internationalisation at home' (I@H) program. The program provides personalized support for faculty members wishing to set up new types of international collaborations with partner universities, through international virtual exchanges and short-term mobility projects in the framework of a class. 
As going abroad for a semester or even a year can be costly, the possibilities of undertaking this traditional type of mobility is limiting for many students. International virtual exchanges allow students to benefit from the perspectives and knowledge of international faculty and intercultural exchanges with students from a different country in a structured format in line with their disciplinary fields. In addition, the new Erasmus+ 2021-2027 programme for higher education students and staff provides more financing for short-term physical and blended mobility projects at the Bachelor, Master and PhD levels. While there is still strong support for longer-term mobility projects of one or two semesters, this new program also increases the chances that students from all backgrounds, circumstances and study fields can participate in some form of mobility.
Present at the I@H meeting were more than 25 Rennes 2 personnel, including faculty from: the CIREFE, the graduate schools CAPS and Digisport, the Faculties of Arts, Literature and Communication, as well as Languages and Social Sciences. There were a number of questions posed in relation to information systems and legal frameworks: which tools should teachers use and what are the national and European legal frameworks that should be taken into account when designing shared courses between universities. Members of the Information Systems Office and Legal Office as well as members of the University Management team (the Vice-Presidents for Education and University Life; Documentation, Heritage and Digital Transition; and Academic Offering) were on hand to help provide clear overarching guidance. Faculty members with previous experience in designing shared courses were also able to help share their own experience and success stories of what works best. Staff from the International Office were on-hand to help explain the formal processes of putting into place cooperative projects and courses and, in particular, the functioning of the Erasmus+ short-term mobility projects. 
Leading the meeting was the Vice President in charge of Internationalization, Dr. Lesley Lelourec, who provided participants with an overview of the program and the new opportunities that exist under the new Erasmus+ program. The SUP's pedagogical engineer, Marylou Grivault, who coordinated the meeting, detailed how she and other staff of the SUP can concretely assist faculty and staff during the development and implementation phases of their projects. For her, "the meeting was a great success. They [the faculty] were able to share their experiences and to get valuable advice on how to manage any project-related challenges. It was also beneficial to gather all of the staff engaged in I@H because, as with most new programs, it involves implementing some real changes in our institutional system. And that's all the more reason to work together, hand in hand".
Created in 2016, the SUP's activities are aimed at the professional development of teachers and educational innovation. In particular, their main missions involve:
The accompaniment and pedagogical experimentation developed in part in collaboration with specialized research laboratories;

The development of tools and the production of resources, particularly digital resources;

And the promotion and dissemination of educational innovation.
The I@H program is led by Dr. Lesley Lelourec, and funded by the University's Strategic and Management Dialogue. The support provided by Rennes 2 includes a financial component and a pedagogical engineering component.