Image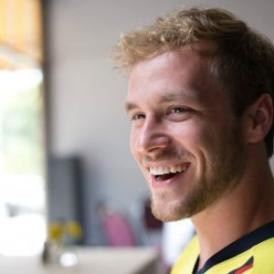 Contenu sous forme de paragraphes
texte
Could you please tell us a bit about yourself ?
My name is Walter and I'm a second-year PhD student in Geography at Texas State University. I grew up in Illinois and received degrees from Northwestern University and Northern Illinois University before starting my doctoral studies in Texas.
What motivated you to complete an exchange program and what led you to choose Rennes?
I wanted to take the opportunity to improve my French and also to experience French culture in a more in-depth way, as well as travel and spend more time living abroad. I chose Rennes because there is a budding connection between the geography departments at my home university and Rennes 2, and the program was searching for doctoral students to participate in the exchange.
Could you please describe a typical day while here?
A typical day might consist of shopping at a local supermarket, attending a presentation or seminar for doctoral students, working in the library or lab, followed by a language support course in the evening and either cooking with other international students in the dorm or going out for a drink with friends.
If you were able to attend courses, please tell us how you found the classes (teachers/ scope of the classes)?
Though my "courses" were different from a typical undergraduate's, I found them generally helpful and the instruction effective. One thing that was surprising for me as an American doctoral student was how infrequently some of the seminars/courses met. I found the courses to be helpful and interesting.
Did you take any French courses at the CIREFE while in Rennes? If so, how did you find these classes?
Yes, I took both a written and an oral language support course while in Rennes. These were helpful in improving my French in a structured way alongside other non-native speakers. The workload for these courses was not too heavy and they were nice complements to my main focus while in Rennes. The professors were helpful and seemed to genuinely care about their students.
While at the university, did you have the to opportunity to interact with other students much (French or international)?
Yes, I was able to interact with both French students (through seminars, lab time, and outside activities) and other international students (primarily through my university residence and CIREFE courses). It was fun to meet other students from a variety of situations and backgrounds and was definitely one of the highlights of this time.
Would you recommend the Rennes 2 experience to anyone at home? If so, could you please tell me in a couple of sentences on what you found most interesting about this experience?
Yes, I would recommend an exchange to anyone, and I found Rennes 2 to be a stimulating place to spend a semester. As an American, I would caution other American students from expecting too much in terms of campus amenities, as the drastic differences in tuition costs between the French and American public university systems means a difference in campus aesthetics and resource availability. But I found Rennes to be a nice place to live with lots of opportunities for engaging with the local culture. I had overwhelmingly positive experiences with locals and enjoyed the cuisine a lot. The more you step off of campus and seek out experiences in the greater city, the more you will get out of this experience, in my opinion.