Image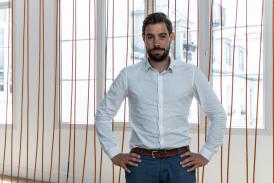 Contenu sous forme de paragraphes
texte
You have undertaken a fundraising round of 2 million euros. What does this mean for Moovency's future?
Pierre Plantard: An initial fundraising of around 500,000 euros was carried out with private investors who took a share of the company's capital. This allows us to borrow from banks and to benefit from French investment bank BPI's financial aid for innovation, to reach 1.5 million on these non-dilutive loans. We also obtained financing for some collaborative R&D projects which are about to begin. After having spent a year working on the proof-of-concept to validate the product and obtain new contracts, we are changing scale to expand into the French market, structure our offering, release new R&D products and move from relationship-based sales to actual marketing. In the longer term, we are going to think about the internationalization of the solution and test different distribution channels (such as switching to distributors or direct sales). Our market is an emerging one, with competitors and innovations that move very fast. We have to be on the cutting edge and be able to adapt to new issues, such as the global health crisis. This fundraising campaign also shows that we are able to stay one step ahead in that race and that's a lead that we want to keep. 
What are your future plans?
P. P.: KIMEA is now industrialized and being used by several customers. Our idea now is to use KIMEA's algorithmic core, developed during my thesis research at Rennes 2, for other products. For example, we have just finalized an experiment in gesture and posture training with a CFA training center in the building and public works industry. It's no longer ergonomics, even if it's close: the tool we developed allows us to compare the learner's gesture with a reference gesture and to see how to support their training in specific job-related gestures. This is another use of technology with the same scientific basis. 
Does that mean you're going to target sectors other than industry?
P.P.: Yes. Originally, we approached the manufacturing industry because that's where there are the most repetitive movements and MSD problems. Other sub-sectors are a priority, such as the food or automotive industries, as well as industries linked to metallurgy. We have adapted the tool so that it is more relevant in other sectors of activity, for example logistics or construction. This required us to follow the operator in his work, which our camera did not allow before. We would also like to target potential customers who work in the field of training and prevention of risks connected to physical activity at the workplace. Although we're still in the R&D phase at the moment, it's definitely something we'd like to commercialize in the near future.
Can your solution also be used in the medical field?
P.P.: In coordination with the Saint-Hélier Hospital in Rennes, we are going to experiment on a project related to personal caregiver training because, as we know, the carrying of patients leads to a lot of occupational illnesses. It is difficult to set up this type of workstation because it involves both the practitioner and the patient. We are going to try to determine the least restrictive gestures when carrying a patient and offer practical and interactive training thanks to a digital twin. 
What is Moovency's business model?
P.P.: We have a first model based on the sale of the KIMEA kit which includes the computer with the software, the camera, the connected gloves and the annual user license. Our second model is the provision of services. We made the choice very early to hire ergonomists who know the problems in the field and can offer quality services and advice in ergonomics based on KIMEA technology. We are going to launch a third model for independent professionals and freelancers who will pay per use, after having been certified in the correct ways to use the technology. 
What makes you different from your competitors? 
P.P.: My thesis allowed me to realize that depth cameras could not be used directly. The algorithms developed during my thesis now allow us to make precise and robust measurements in an industrial environment. Moovency is a subtle mix between scientific robustness and ease of use. We wanted technologies that are the least invasive for the operator and the user. We differentiate ourselves from existing solutions on the market which are based on sensors placed on the body and which require calibration of space, posture, and sometimes even the wearing of suits. We have managed to eliminate the need for calibration with our system. Our tool helps the ergonomist, but does not directly give him the recommendations to make. Ergonomics is multifactorial, we measure the biomechanical consequences, and it is the ergonomist's job to find the causality: does it come from the organization of work, does it involve psycho-social risks? Thanks to KIMEA, the ergonomist relies on objective figures. This is essential to negotiate budgets and set up workstations.
Are you still collaborating with the Rennes 2 research center for Movement, Sport and Health Sciences (M2S)?
P.P.: Of course! M2S is a privileged partner because of its research axes and the equipment it offers. Plus, I am always delighted to see my former colleagues again! Last summer, we used Immermove to validate the accuracy of our sensors. This platform is quite unique and meets our needs for development validation measurements. Our future R&D projects will probably still involve using Immermove and working with the MimeTIC team (M2S/INRIA/IRISA).