Image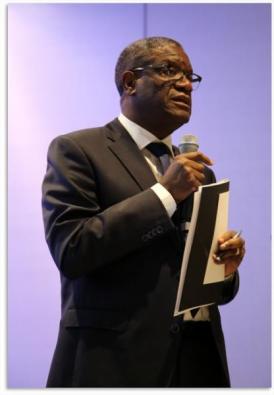 Contenu sous forme de paragraphes
texte
Rennes 2 is pleased to announce the international online colloquium "War Memories 2020/21", on June 22nd, 23rd and 24th, 2021, open to the public and free of charge, with Professor Dr. Denis Mukwege, Nobel Peace Prize 2018 recipient, as Guest of Honor.  
On Tuesday, June 22, at 4:00 p.m., Pr. Dr. Mukwege will give a plenary video lecture entitled "Le viol comme arme de guerre en République Démocratique du Congo: De la prise en charge holistique à la justice transitionnelle" (Rape as a weapon of war in the Democratic Republic of Congo: from holistic care to transitional justice).
This colloquium is organized within the framework of the work carried out by the "Environment, Politics, Identities, Cultures" axis of the ACE research team, directed by Renée Dickason, and of a series of international colloquia dedicated to "Memories of War and Peace", in collaboration with several French and foreign universities, and in partnership with the Royal Military College of Canada (RMC), in Kingston, Ontario and the 3L.AM laboratory (Le Mans).
During the afternoon of June 22nd, researchers and members of civil society will be mobilized around the issue of sexual violence inflicted on women. The themes addressed will focus on a universal vision of sexual violence against women in various contexts , war, including "low intensity", conflict, exile, peace), with medical, humanitarian and cultural perspectives....
His talk will be followed by a roundtable with: 
Daniel Palmieri (International Committee of the Red Cross) and Christine Seisun (ICRC Addressing Sexual Violence Manager for the ICRC in the Democratic Republic of the Congo), «

Aujourd'hui, je ne suis plus de ce monde

» :

Les humanitaires et les violences sexuelles en temps de guerre. L'exemple du Comité international de la Croix-Rouge. (Today, I am no longer of this world: Humanitarians and sexual violence in wartime. The example of the International Committee of the Red Cross )

Nathalie Sierra-Scroccaro (psychologist, University Hospital, Laval, France):

Les mutilations sexuelles féminines : une approche psychologique

(Female genital mutilation: a psychological approach).

Jean-Philippe Harlicot (gynecologic surgeon, University Hospital, Rennes, France)
Another segment of the video conference will by a online discussion centered on the triptych "Trauma, Reparation, Reconstruction", moderated by Colette Braeckman (Journalist, Brussels) and Benaouda Lebdai (Professor, Le Mans) in the presence of Jean-Philippe Harlicot (Gynecologist), Nathalie Sierra-Scroccaro (Clinical Psychologist), Daniel Palmieri and Rachel Bernhard (International Committee of the Red Cross, Switzerland and DRC).
Towards the end of 2021, another scientific event and roundtable will be held at Rennes 2 University, in the presence of Pr. Dr. Denis Mukwege.