Image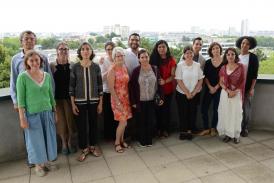 Contenu sous forme de paragraphes
texte
Faculty members from the Department of Modern Languages of the University Centre for Social and Human Sciences of the Universidad de Guadalajara were welcomed earlier this week to discuss the possibilities of establishing a joint Master's program with Rennes 2's program on Francophonie, Plurilingualism and Intercultural Mediation (FPMI). The program would cover subjects related to: philology, literature, linguistics, translation and didactics. 
The Department of Modern Languages of the University Centre for Social and Human Sciences has already opened a bi-diploma program with the Herder Institute of the University of Leipzig, with the support of DAAD and CONACyT (the Mexican National Council of Science and Technology).
Delegation members from Guadalajara included Mrs. Olivia C. Díaz Pérez, Head of the Modern Languages Department, Mr. Humberto Márquez Estrada, Academic Advisor of the Department of Modern Languages, Mr. Carlos Solís Becerra, Coordinator of the Master Deutsch als Fremdsprache (University of Guadalajara-Leipzig), Mrs. Sara Quintero Ramírez and Mr. Hugo Trejo González, (both former Rennes 2 FLE Didactics students), in charge of the project with Rennes 2.
Discussions throughout the day were led by Amal Jouffe - El Amrani, Director of the International Office at Rennes 2 and centered on the complementary aspects of the two Master's programs and the different modules that could be offered within the framework of a possible agreement between the universities. The group also met with Philippe Blanchet, President of Rennes 2 Academic Council and Head of the FPMI program, as well as Lesley Lelourec, Vice President for Internationalization, before concluding with a tour of the campus' digital centre, the Pôle Numérique Rennes Villejean (PNRV), led by Frédéric Remonté, Digital and Multimedia Engineer. 
For more information please contact the International Office at Rennes 2 at: international [at] univ-rennes2.fr (international[at]univ-rennes2[dot]fr)