Image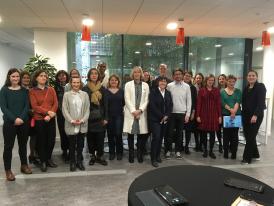 Contenu sous forme de paragraphes
texte
On 26 November, a group of faculty and staff from new international partner Oslo Metropolitan University were welcomed to Rennes 2 for a day of meetings and discussions. Many of the topics of the day centered on ways in which the two universities might cooperate, particularly in the fields of language acquisition and language learning. 
The colleagues present from Oslo Metropolitan were: 
Cathrine Doscher, International Coordinator for Student Exchange, Department of Primary and Secondary Education

Kristin Bugge, International Coordinator and Advisor for Faculty Leadership at the Faculty of Education and International Studies
They were also accompanied by Guro Hagen, International Coordinator at Inland Norway University of Applied Sciences, and Fred Arild Pettersen, Attaché for Educational Cooperation between France and Norway at the Nowerigan Embassy in Paris. 
The morning's discussions were led by Lesley Lelourec, Vice President of Internationalisation, and Amal Jouffe El-Amrani, Head of Rennes 2's International Office, with the help of faculty members involved in the Master's program on Language Learning and Language Acquisition. Oslo colleagues also took time to visit and meet with the heads of the French-language Learning Centre, the CIREFE, the Digital Centre and the Living Lab DESIR before concluding their day. 
For more information, please contact:
The International Office at Rennes 2
sri-incoming [at] univ-rennes2.fr