Image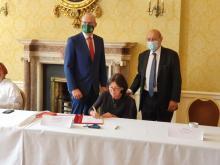 Contenu sous forme de paragraphes
texte
On August 26, 2021, Rennes 2 University, along with the University of Rennes 1, the Université de Bretagne Occidentale, l'Université Bretagne Sud, the University College Cork, the University of Limerick and the National University of Ireland, Galway, signed in Dublin a "Memorandum of Understanding" with the common goal of maintaining and strengthening strong ties with Ireland.
In the post-Brexit context, the various signatories intend to deepen their relationship through the emergence of common research projects, support for the mobility of teachers, staff and students, and the outline of common programs that could lead to a double-degree. Emerging priority themes include: agriculture and nutrition, sea and coastline, digital and cyber security, health, environment and sustainable development as well as Celtic languages, histories and cultures. The partners will continue their discussions in the coming months with the aim of setting up concrete actions, such as the organization of summer schools, common research projects and the deepening of links with twinned cities.
Supported by the Region of Brittany and signed in the presence of the two Ministers of Foreign Affairs, Jean-Yves le Drian and Simon Coveney, the agreement is planned for a period of 5 years. At the end of this timeline, the agreement may be extended, or even increased, to ensure the continued mutual influence of these Celtic academic communities. 
The signatories include: 
The Université de Bretagne Occidentale, Béatrice Thomas-Tual, representing Matthieu Gallou, President

Université Bretagne Sud, Christine Chauvin, representing Virginie Dupont, President

Rennes 1, David Alis, President

Rennes 2, Christine Rivalan Guégo, Provisional Administrator (now President)

University College Cork, John O'Halloran, Interim President

University of Limerick, Kerstin Mey, Interim President

National University of Ireland, Galway, Ciarán Ó hÓgartaigh, President