Image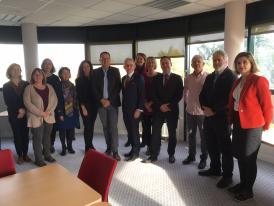 Contenu sous forme de paragraphes
texte
The President of University College Cork (UCC) recently visited Rennes 2, after delivering the keynote address of the European Cyber Week conference, held from November 19th - 21st, at the Jacobin Convent in downtown Rennes. 
While here, they were able to meet with Rennes 2 President, Olivier David, Vice President of Internationalisation, Lesley Lelourec, and Vice President Christine Rivalan Guego, as well as several other staff members. 
The group from UCC included:
Professor Patrick O'Shea, President of University College Cork

Dr. Jean van Sinderen-Law, Associate Vice President, Director of European Relations and Public Affairs

Professor Fiona Kearney, Director of the Glucksman Gallery

Professor Pádraig Ó Macháin

Dr. Gerard Culley, Director of IT Services
Discussions centered around increasing collaboration in several academic fields, notably with regard to the Creative Arts in Public Space (CAPS) graduate school, and a new European project on landscapes in distant regions / outposts. The delegation was particularly enthusiastic to learn more about the Epicerie Solidaire, a free grocery store created by a Rennes 2 student initiative, and to discover the ancient Irish texts in the University library.
University of Rennes (UNIR) members also hope to build a strategic partnership with UCC following a visit to Cork by Rennes 2 staff in February. Cork is also a sister-city of Rennes since 1982. 
For more information, please contact:
The International Office at Rennes 2
sri-incoming [at] univ-rennes2.fr