Image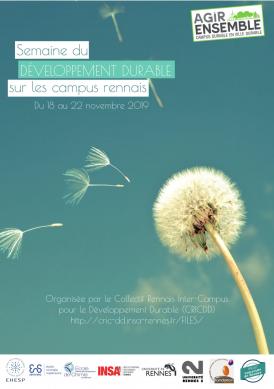 Contenu sous forme de paragraphes
texte
During the third week of November, and within the framework of the University of Rennes (UNIR), researchers, professors, students and community organizations will be mobilized around the theme of sustainable development on the majority of Rennes' campuses. 
Organized by the Rennes Inter-Campus Collective for Sustainable Development (CRICDD), events such as: conferences, exhibitions, workshops, educational programs and visits will take place at various campuses throughout the city. In addition to Rennes 2, participating institutions include: l'École des Hautes Études en Santé publique (EHESP), l'École normale supérieure de Rennes (ENS), l'École nationale supérieure de chimie de Rennes (ENSCR), l'Institut national des sciences appliquées de Rennes (INSA Rennes) and Rennes 1 University. The events are free and open to all. 
Working under the common theme titled, "Agir Ensemble" (let's act together), the initiative aims to promote local actions that contribute to the development of sustainable campuses within sustainable territories ahead of COP2. 
At the same time, Rennes 2, is also hosting a series of additional events under the program Verdoyons !. Taking place throughout the month of November, Verdoyons ! will showcase local environmental initiatives on the Rennes 2 campuses. 
A few of the events that will be taking place throughout the week are:
Monday, November 18: 
Forum on Waste Reduction: Come and discover different kiosks and workshops around "Zero Waste" as part of Verdoyons ! (Rennes 2, Villejean campus) 

Composting training (EHESP)

Screening of the film: Frères des arbres, l'appel d'un chef Papou. Film by M. Dozier and L. Marescot (France, 2017) (Rennes 2, Villejean Campus)
Tuesday, November 19:
Conference on "Solar Hydrogen Production: Issues, Current Research and Tomorrow's Challenges" (INSA Rennes)

Conference on Climate Change and Sustainable Development: Risk of collapse or opportunity for change? (Rennes 2 Villejean, Campus)

Concert "Yé Lassina Coulibaly and the Yan Kadi Faso Ensemble: Polyphonic Song and Balafons". The texts of Yé Lassina Coulibaly, a Burkinabe musician and composer now based in France, speak of respect for and protection of nature, the relationship with elders as well as the importance of education and freedom. Concert scheduled as part of Rennes 2's Verdoyons ! (Rennes 2, Villejean Campus)
Wednesday, November 20:
Visit of zoology collections: The university's zoology collections include about 150,000 animals: mammals, birds, reptiles, amphibians, insects... Come and discover them! (Rennes 1 University, Beaulieu campus)

Waste Reduction Workshops with Rennes Métropole (EHESP)

Sustainable coffee evening: Meeting around a common theme: sustainable development. Theatre, improvisation, stands of Rennes organizations, photo exhibition. Everything you need to discover sustainable development in a different way. (Rennes 1 University,  Beaulieu campus)
Thursday November 21: 
 Round table: IT and energy/climate issues, from design to recycling.  How to take into account environmental and societal dimensions of a digital object or service? (Rennes 1  Beaulieu campus), 

Conference "Materials for Solar Photovoltaics" (INSA Rennes)

Do It Yourself Workshops: Homemade laundry and deodorant, tawashi sponges, homemade cereal bars. Workshop organized as part of the Verdoyons cycle! (Rennes 2, Villejean campus)

Conference "Concept of the Anthropocene: Interests and Misconceptions, towards the notion of "Environmental Intelligence". (Rennes 1, Beaulieu campus)
Friday, November 22:
Guided tour of the CIP laboratory (pollution control and waste management pilots) (École Nationale Supérieure de Chimie de Rennes / ENSCR)

Conference "Pollution Remediation Tools for Environmental Protection". (École Nationale Supérieure de Chimie de Rennes/ ENSCR)