Image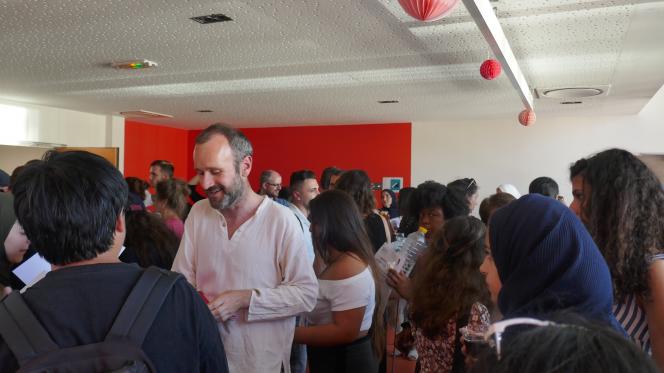 Contenu sous forme de paragraphes
texte
Over 75 students were in attendance on June 12th, to celebrate the completion of summer courses at the Rennes International Centre for the Study of French (CIREFE).
The program, in which students take 20 hours of French language courses a week, is as popular for its French language offering as it is for its cultural program. Students are invited to participate in numerous outings in Rennes and the surrounding regions, (concerts, theatre and festivals in Rennes, as well as excursions to the cities of Dinan, Dinard and Saint Malo). 
The CIREFE draws many students from around the world, with 26 nationalities being represented during this first summer session, including a group of students from Palestine (organized by the French Consulate in Jerusalem) as well as from Texas. The summer session, which is open to students of all levels, also offers a French-language didactics program for teachers or future teachers if there is sufficient demand each year. The didactic program includes observations and analysis of classroom practices, immersion in daily life and discovery of Breton culture.
Thirty percent of the students this year were from strategic international partner Texas State University (TSU). Already working together in the exchange of undergraduate and graduate students in the two institutions' geography departments, the language collaboration between Rennes 2's CIREFE and the Department of World Languages and Literatures at TSU has been ongoing since 2009. Dr. Carole Martin, Head of the French Exchange Program for TSU elaborated,
Texte important
"The CIREFE has a very good reputation, one of the top 5 in France. Although we've tried collaborations with other similar  French centers in the past, it just never fully clicked. On the other hand, we've had a very positive and productive collaboration with Rennes 2 from the start. Our students also feel extremely comfortable in Rennes. The city is big enough and diverse enough to offer interesting activities all with a special Breton uniqueness, and yet small enough so that it's not overwhelming nor overpriced."
texte
Dr. Martin also pursued discussions to broaden the cooperation between the two universities while here. 
"Since we have such a fruitful relationship with Rennes 2, we'd like to expand our collaboration to include a number of possible hybrid projects. I had discussions with the International Office on how we at the Department of World Languages and Literature at TSU might work more with the CIREFE and with the FLE Didactics Program at Rennes 2."
The discussions included the possible development of a hybrid course for TSU students, based on digital platforms used by students of Rennes 2's Didactics Program (i.e. tutorial videos/teaching tools for students studying French language and literature), as well as the creation of a potential lecturer position to be established at TSU for a Rennes 2 graduate student. 
Although the first summer session of the CIREFE is over, the CIREFE will soon be welcoming a new group of students for an enriching and varied program for the Summer University. Beginning on August 5th, the four-week program, combines language, culture and practical life to facilitate adaptation to everyday life in France and the academic background in French for international students (from A1 - C1 levels).
For more information, see the CIREFE website.