Image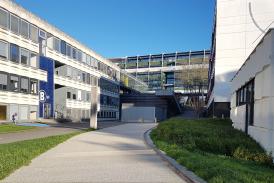 Contenu sous forme de paragraphes
texte
Last Update: November 20th, 2020: 
In the context of the current health crisis and a mandated national confinement, we understand that it's important that you have information on the different types of assistance available to you. From financial assistance, to health and psychological support and more, we've listed some resources that are at your disposal. This list will be updated as new information becomes available, so consult it regularly. More information is also available on the Rennes 2 Intranet in French.  
Contenu du texte déplié
texte
Exceptional student aid of €50.
In light of the many difficulties being encountered by our students (as has been reported through university forms, our pedagogical teams and student organizations), Rennes 2 University has been able to raise a student emergency fund of €80,000. As such, a lump-sum aid of €50 is once again being established, on the initiative of the elected student representatives, for 1,600 of the most vulnerable students.
Your difficulties are many and varied. Rather than organizing a specific aid fund for each type of difficulty encountered (which could complicate the process for many of you), we have chosen to keep it simple in order for you to be able to use this lump sum according to your needs and your particular situation (i.e.: payment of internet packages, food shopping, payment of rent, bills, purchase of small computer equipment ).
The form will be accessible from Monday, November 23rd to Sunday, November 29th inclusive.
We understand that this assistance remains modest and can only help to partially meet current needs. We invite you to contact the CROUS, in priority or additionally, to obtain financial and/or food aid. To do so, simply send an e-mail to the social workers in charge of the students in your discipline. You will find their contact information at the following link: https://www.crous-rennes.fr/aides-sociales/589-2/ 
As a reminder, scholarships students will receive €150 from the Crous. There are also student food aid initiatives. Free grocery distribution by the Epicerie Solidaire continues by appointment and it is still possible to ask for the reimbursement of €10 of groceries per week within the "sac solidaires" scheme.  The FAQ section on the University's website also summarizes the different kinds of aid available.
Concerning requests for computer equipment, unfortunately we have been unable to meet all requests. A waiting list has therefore been drawn up according to the date of the received request. An additional order has been placed, but the delay in deliveries means that we are not able to respond to urgent requests. We therefore strongly invite you, if possible, to come and work on campus by reserving a place in one of the rooms at your disposal:
Villejean campus, Rennes: https://www.smartagenda.fr/pro/univ-rennes2-salledetravail/rendez-vous/ 
Mazier campus, Saint-Brieuc : https://cursus.univ-rennes2.fr/course/view.php?id=17675 
Finally, don't forget you have the possibility to use the university reprography service for your printing needs, through the link Repro Rennes present on your ENT (see details in the FAQ section).
We wish you good luck and remain at your disposal.
Take care of yourself and your loved ones.
The Student Life Center of the DEVU
texte
Reception and access to the premises on the 3 campuses (Villejean - La Harpe - Mazier):
All telephone and e-mail enquiries will be answered. In case of necessity, access to the university is possible by appointment. The university has authorized student meetings in the following cases and (in some cases by appointment):
Travaux pratiques (workshop / practical classes) for 110 groups on the 3 campuses of the university, from L1 to Master 2, according to the list of courses established by the rectorate of the Academy on November 5th, 2020 of "training that cannot be carried out at a distance because of its practical nature and thus authorizing the reception of users in the higher education institutions concerned".
Work within a study room (by appointment only)
Access to a study room with computer equipment, allowing internet access and document printing, etc. Monday to Friday from 8am to 1pm and from 1:30pm to 8:30pm (by appointment).
Access to administrative departments (by appointment or convocation). For example, the DEVU receives students on Monday afternoon and Wednesday all day long by prior appointment via the ENT smart agenda. 
Financial assistance
Whether you are a scholarship holder or not, contact the Crous! The university supports the social actions of the Crous and emergency aid is available, in particular vouchers for basic necessities or specific aid. For more information, please visit the CROUS website. If you make a request, your e-mail must detail your situation, with your specific needs clearly stated, so that their social workers will be able to then make a recommendation. You will be asked for supporting documents which make evident your difficulties. Please note that, on average, the response time is about one week.
At the beginning of December, each scholarship student will receive an exceptional grant of 150 euros with their regular scholarship payment. If the student so requests, the scholarship fees may be reviewed and recalculated on the basis of 2020 income rather than 2018 income.
The Ministry of Higher Education, Research and Innovation (MESRI) and the CNOUS have set up a national hotline for students in financial difficulty: 0 806 000 278.
Other initiatives exist, of which we are not always aware. Do not hesitate to go on social networks or to contact your student representatives. Find the list of student representative organizations.
Different types of financial assistance available:
For CROUS scholarship holders: 150€ at the end of November/early December 

For all students: Simplified CROUS emergency assistance, for more information, please visit the CROUS website.

Scholarship entitlement recalculated on 2020 income (see étudiants.gouv.fr)

Rental aid for the cités universitaires: for all these aids, contact the CROUS: contact CROUS / 02 30 30 09 30 (Monday to Friday from 9am to 5pm).

Reimbursement of tuition fees based on social criteria: if you are in a difficult financial situation but do not receive a scholarship, you can withdraw an exemption file at the reception desk of the Direction des Etudes et de la Vie Universitaire (DÉVU). It must be submitted no later than December 4 of the current academic year. Each file is studied according to each individual's personal situation.
Food assistance
For CROUS scholarship holders: meals are maintained at 1€.
Free groceries at the Rennes 2 Epicerie Gratuite (Monday 4pm - 8pm, Tuesday 6pm - 8pm and Friday 3pm - 5pm by appointment : epicerie.gratuite.r2 [at] gmail.com
Student Organization for the Maintenance of Agricultural Products (AMAP): distribution of baskets of organic vegetables as well as distributions of other agricultural products (bread, juice, etc.).
To be informed of all the news of the Rennes 2 Amap/ Villejean: https://www.facebook.com/Paniersbiosetlocaux
For AMAP possibilities throughout the city of Rennes, go to the inter-AMAP student website: https://interamaptudianterennes.wordpress.com/. 
And the Rennes students' inter-AMAP Facebook page: https://www.facebook.com/interamapetudianterennes/ 
Health / Social / Psychological assistance
The Student Health Centre (SSE, Ereve building, 2nd floor) remains open for in-person medical and psychological consultations (to be organized by appointment) as well as for teleconsultation. To make an appointment, call the secretariat at 02 23 23 70 85 or 86. It is not possible to make an appointment by e-mail.
The BAPU (Bureau d'Aide Psychologique Universitaire) is a consultation center for students who wish to receive psychological support. A team of professional psychologists specialized in welcoming students is available to listen to them: telephone permanence from Monday to Friday from 3 to 5 p.m. on 02 99 30 81 24. More information is available here.
During the confinement, the Handi'Rennes 2 organization remains remains at your disposal and actively listening, via their Facebook page or by email (handirennes2 [at] gmail.com).
The PIMMS France Services reception center in Henri Fréville can help provide a way to interface interface with public services. The social mediators advise and accompany students in precarious or insecure situations in their administrative procedures of daily life.
The PIMMS remains open by appointment during this period by calling 02 99 32 02 58.
Peer Support
A "Support COVID-19" exchange group is active on Facebook to ensure support and listening between peers. Led by students of Master 2 psychology Rennes 2, volunteers within the COVID ambassador system, this student support group offers content on COVID-19 prevention, advice on sports, eating and sleeping problems during the confinement and also offers group listening times or telephone meetings if necessary. You can contact them via their Facebook page.
Action IREPS / info com: Information-Communication students are working alongside IREPS (Regional Authority for Education and Health Promotion) to design and implement communication on social networks to support the well-being and resilience of students during the pandemic. Contact: Isaline Collet, project manager at IREPS, isaline.collet [at] irepsbretagne.fr.