Image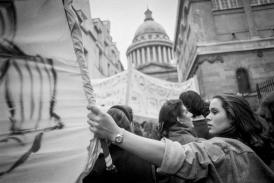 Contenu sous forme de paragraphes
texte
After two years of the pandemic, student youth are becoming more precarious and are facing an increasingly competitive French university system.  It is in response to this political context that we take a look at past student movements for our last exhibition of the season.
Under the eye of photographer Jean-Claude Coutausse, we walk the benches of the lecture halls and the streets of Paris, alongside those who demonstrated against the Devaquet bill, which provided for selection at university entrance. In these black and white shots, what strikes us are the smiles and determination of these young people, but also the sadness and anger in the rallies that followed the death of Malik Oussekine.
In this context of crisis, and as the presidential elections approach, this photographic series offers a powerful testimony and attests to the strength of the commitment of a youth that refuses to be sacrificed.
---
Jean-Claude Coutausse, photojournalist, was born in 1960 in Monpazier, Dordogne. He has received several major international awards such as the Nièpce Prize (Paris, 1993), the FotoGranPrix (Barcelona, 1996), the Mother Jones Award (San Francisco, 1997), the Humanity Photo Award (Beijing, 2000) and the Roger Pic Prize (Paris, 2000). In the 1980s, he worked exclusively for the newspaper Libération and covered French politics, the student demonstrations of 1986, Haiti, Chile, the first Intifada, the fall of the Berlin Wall...
Then, with the American agency Contact Press Images, he was sent by Time, l'Express, Newsweek or the New York Times magazine on many conflicts including Somalia, the Gulf War and the former Yugoslavia. Moving away from current events, he then produced numerous reports for Géo and National Geographic-France over a period of fifteen years. His interest in the Sacred and the Imaginary led him to work for three years on voodoo in Haiti and Benin.
He now divides his time between reporting on current events for the newspaper Le Monde, for which he covered the earthquake in Port-au-Prince, the Egyptian and Libyan revolutions and the last three presidential campaigns, and the realization of personal projects such as a portrait of the Holy Land in the 21st century. He published with journalist Vanessa Schneider, "L'énigmatique monsieur Hollande" (The enigmatic Mr. Hollande), an immersion of twenty days in the corridors and lounges of the Elysee Palace.