Image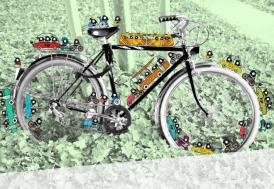 Contenu sous forme de paragraphes
texte
Rennes 2 University is organizing its used bicycle market on Thursday, September 19 on the Villejean campus.
Every year, more than 100 bicycles leave for a second life... From old city bikes to mountain bikes and all-terrain bikes, you will surely find what you are looking for.
This is the opportunity to sell the bike that hangs at the bottom of your garage and that will surely make another student happy! Drop off your bike between 8am and 10am and we will sell it for you without commission. At the end of the day, come back for your money or your bike if it has not found a new owner!
---
Bicycles may be purchased: From 10am to 4pm
Unsold bikes (or cash from any bikes sold) may be recovered: before 4pm.
texte
Seller Regulations:
10 bikes max. / person (professionals included)
Purchase price fixed in accordance with the condition of the bike on the advice of the organizers.
The organizers reserve the right to refuse any bike that is not safe enough to be put back into circulation.
 
---
As part of this day focused on mobility, other free activities will be offered to students and staff: anti-theft code engraving, bicycle self-repair workshops, information on transportation services in Rennes...