Image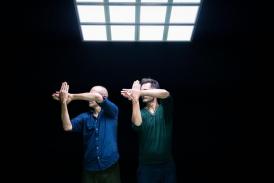 Contenu sous forme de paragraphes
texte
By Denis Plassard, with Anthony Guyon and Denis Plassard
The duet is a testimony, the epic story of the first meeting between Anthony and Denis. They tell us, with words, signs and movements, how they met inside a modern elevator but without air conditioning; an elevator equipped with a screen showing a loop of an advertising for an island vacation.
Anthony is just coming out of an exciting meeting with his favorite architect, while depressed Denis has just left his lawyer. When the elevator breaks down, they find themselves face to face, forced to communicate.
The duet is a burlesque tale, the tragic epic of a hearing man and a deaf man stuck in a broken down elevator. One can't hear, the other can't sign.
Interpretation : Anthony Guyon, Denis Plassard
Design : Denis Plassard
French text : Denis Plassard
Text in French Sign Language: Anthony Guyon
Choreography and direction : Denis Plassard (with the complicity of Géraldine Berger and Anthony Guyon)
Translation and outside view: Géraldine Berger
---
Production realized as part of the Waterproof festival, dive into the dance!
www.festival-waterproof.fr/