Image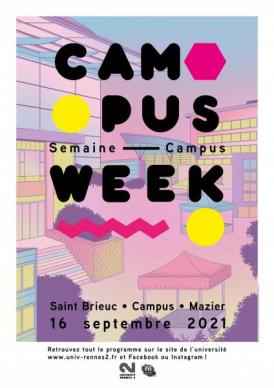 Contenu sous forme de paragraphes
texte
To mark the start of the academic year, Rennes 2 University is organizing a Campus Day in Saint-Brieuc on Thursday, September 16th, 2021 from 11:30 am to 3:30 pm.
This convivial day is an opportunity to discover all the resources of university life. Information stands will be setup to provide you with information on Rennes 2's cultural offer, student organizations, health, sport opportunities... There will also be various activities and shows punctuated throughout the day.
Follow the event on social networks: #JourneeCampus
Stands from 11:30 am to 3:30 pm
Get all the practical information you need and discover all the facilities that have been set up for you! Rendez-vous at the esplanade of the nobel prizes and on the outside of the Mazier campus to take part and potentially win prizes and goodies!
Community Village 
University services: studies and university life
Local services: housing, transportation, etc.
Information on sports, health and student well-being
Culture : information and goodies
etc.