Image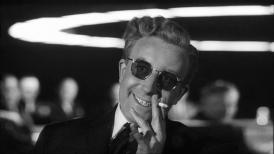 Contenu sous forme de paragraphes
texte
The Ciné-Tambour session features two great British actors, Alec Guinness and Peter Sellers.
This double feature promises to be as burlesque as it is unforgettable.
The first show will be the classic English comedy, The Ladykillers, produced by the legendary Ealing studios. Guinness depicts a manipulative thief character whose exorbitant eyes make people shudder as much as his absurd gestures make them scream with laughter. Be attentive and spot young Sellers beside him in one of his first roles. 
Peter Sellers perfects his comic genius in the masterpiece by Stanley Kubrick, Dr. Strangelove, in which the actor delivers a breathtaking performance by playing three memorable characters, including the famous doctor of the same name.