Image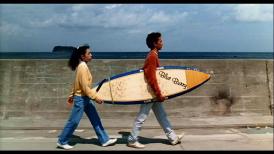 Contenu sous forme de paragraphes
texte
For this very first screening of the year, the Ciné-Tambour braves the cold and dreams itself towards summer.
It is by the water that we invite you to spend the evening with the film A Scene by the Sea with Ava and Shigeru, two characters from different backgrounds who have the same desire: freedom. The beach is a place of refuge, self-discovery and escape in this film. When they find themselves trapped in a banal or unhappy life, the sand and sea act as a call to freedom, to flee.
You can then get away with Léa Mysius' film Ava, the story of a 13 year old girl who is dealing with a genetic condition, but who, in the meantime, is determined to live life to the fullest near the beach.