Image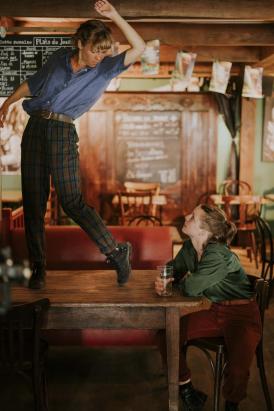 Contenu sous forme de paragraphes
texte
Pauline and Nolwenn consider each new creation as an adventure, a path towards a dance accessible to the greatest number of people, regardless of generation or social class. Their approach is to go and meet an "out of the ordinary" public in everyday common areas of social groupings. Their desire is to create a link, to build a bridge between contemporary dance and everyday life.
It is also the opportunity to make these places live, so that they last. "Bringing art to the counter" is their objective for this second adventure. Through their energy and a writing mixing physicality, requirement and sharing with the public, they want to propose to the spectators, to customers of bars in particular, the desire to share and to dance.
Choreography : Pauline Sonnic and Nolwenn Ferry
Interpretation : Alexandre Artaud, Pauline Sonnic and Nolwenn Ferry
Musical editing : Thomas Bouetel
This show is part of the Waterproof festival, dive into the dance!