Image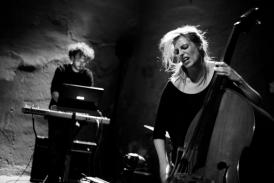 Contenu sous forme de paragraphes
texte
This concert is being made available within the framework of the festival Autres Mesures.
For this first collaboration, Rennes 2 and the festival "Autres mesures" have invited the duo Élise Dabrowski (double bassist and singer) & Sébastien Béranger (composer) to the recently renovated atmosphere of the Central Library for a performance you won't want to miss. Phalacrocorax is a crossover approach between instrumental gesture, vocal virtuosity and the immense palette of electroacoustic techniques.
The way in which the duet make music together is like a great crossing of paths: between lyrical voice, jazz double bass and live electronics, Phalacrocorax is a journey of ideas, a succession of soundscapes, spaces, horizons... fragments of voices perceived then forgotten.