Image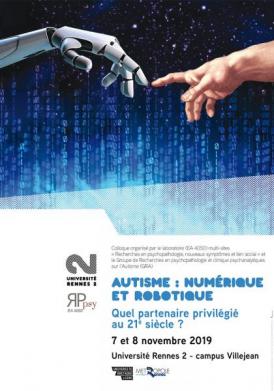 Contenu sous forme de paragraphes
texte
The international conference "Autism: Digital and Robotics. Which privileged partner for the 21st century? "
This conference aims to focus its work on the very contemporary study of the use of digital and other technological objects in the field of mental health, and particularly the very recent arrival of robotics, for the treatment of autism.
This international interdisciplinary colloquium on psychopathology and clinical psychoanalysis, open to contributions from other disciplines (Information-communication, digital engineering, anthropology, sociology, philosophy, medicine, psychiatry, law, educational sciences), will analyze this new rise in the power of robotics in the fields of mental health and education for autistic people, both its emerging context (cybernetics and artificial intelligence) and the logic of the discourse at stake (which promotes for its greatest benefit the commodification of autism treatment), as well as its theoretical underpinnings and conceptions of autism.