Image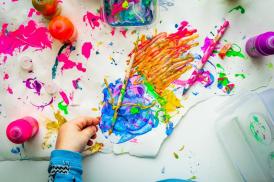 Contenu sous forme de paragraphes
texte
Meeting with Manuela Spinelli (MCF Rennes 2, Co-founder Parents & Féministes) and Amandine Hancewicz (Co-founder and President Parents & Féministes)
From birth, children are identified with a gender and from this identification comes a socialization that is, even today, strongly differentiated. What is expected of a girl? And from a boy? Do we offer the same toys to children? The same clothes? Why do we do it? And what kinds of stories do they read? And again: what models do they have in front of them, every day, at home, at school, on TV? By digging deeper, we quickly realize that this gendered education is an obstacle to the full development of the child and, by widening our gaze, we discover that it is at the root of social inequalities.
This intervention will allow us to address the stereotypes linked to the feminine and masculine and to analyze how they are conveyed in the education of children. What are the stakes - individual, social and political - of a non-sexist education?
The conference will be translated live into French Sign Language.
---
Image

texte
Equality Tuesdays are a series of conferences to raise awareness of equality issues. Once a month,  experts are invited to discuss these issues.
The conference is filmed and broadcast live on the Mazier campus in Saint-Brieuc. It will then be visible on Aire d'U, Rennes 2 University's web media.
texte
---
Covid Health and safety regulations: For the respect, the safety and the comfort of all, we thank you for respecting the sanitary rules and guidelines. The audience of the room will be reduced by half, and seating will be constrained to one person every two seats.
Wearing a mask will be mandatory as soon as you enter the building and for the entire duration of the event. A hand disinfection will need to be carried out at the entrance of the room. Physical distancing measures will also be imposed in the lobby and in the hall.
In case of non-compliance with these instructions, you will be asked to leave the premises.