Image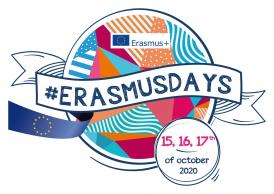 Contenu sous forme de paragraphes
texte
What is #ErasmusDays?
Launched as an initiative of the Erasmus+ French National Agency on the 30th anniversary of Erasmus+, #ErasmusDays consists of a series of bottom-up events organised by various Erasmus+ programme players. Last year, 3 995 events were organised in 53 countries.
At the core of this international celebration is a simple idea: over three specific days, communicate about European values, the benefits of mobility, Erasmus+ projects results, and be visible to citizens, professionals, media and policy makers. The #ErasmusDays 2020 will take place on 15, 16 and 17 October.
Erasmus Day at Rennes 2: Thursday, October 15.
On the program :
Information on international study mobilities

Posting of testimonials from students on the move

Broadcasting of the documentary "The European Hostel".

Online contest for the creation of poetry riddles organized by the team of the European project

DECLAME'FLE

. The aim is to build an enigma related to works and authors who write in French and who are of foreign origin.
More details to come soon. In the meantime, don't forget to mark your calendars!
---
For more detailed information about #ErasmusDays, visit the #ErasmusDays website.