Image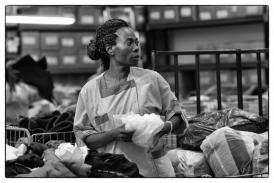 Contenu sous forme de paragraphes
texte
Photographs by Joël Cousinard, in partnership with the Festival Photoreporter Off de Saint-Brieuc.
Joël Cousinard, studio photographer, put his career on hold in the mid-1990s and became an educator for children with intellectual disabilities. He recently resumed his activity as a photographer and devoted himself to reporting on themes that linked his two professional lives.
He offers us an immersion in the heart of Briochin social structures where we discover the daily life and faces of people in precarious situations or with physical and/or mental disabilities and those who dedicate their lives to accompanying them. Integration through work, mutual assistance to overcome difficulties in order to regain dignity and a place in society.
His black and white photographs reveal glances, complicities and a humanity that radiates in the daily life of these places, whether they are specialized reception centres or integration companies. The latter, often associations, provide support to those who need it most. Refugees, chronically ill, precarious, life does not give a gift to the most vulnerable among us, for whom social workers, psychologists and educators organize expression groups, workshops and various support tools to consolidate recent and still fragile achievements.
Official opening with the photographer:  Thursday 11 April, at 6 pm.