Image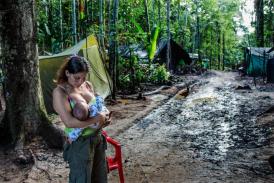 Contenu sous forme de paragraphes
texte
Photographs by Catalina Martin-Chico
After 50 years of fighting, the FARC guerrillas agreed to lay down their arms in 2016.
In regaining peace, the country is also discovering a harsh reality of life for the fighters of this Marxist rebel group.
During 5 decades of fighting and survival in the Colombian jungle, women were forbidden to have children. Those who could not avoid pregnancy were condemned to primary abortion or abandonment of the newborn child.
Since peace was signed, the choice of life was immediate and hundreds of women have since given birth. Colombia is now talking about the baby boom. For these new mothers, sometimes still in semi-liberty and who are all learning how to reintegrate, it is the chance of a rebirth.
French-Spanish, Catalina Martin-Chico is a photographer and photojournalist. She won in 2011 the Humanitarian Visa d'or Award - International Committee of the Red Cross and in 2017 the Canon prize for women photojournalists.
Photo credit : Catalina Martin-Chico