Image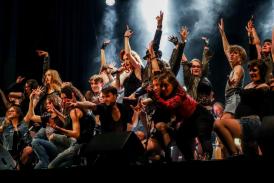 Légende
© Coralie, association MultiRegard
Contenu sous forme de paragraphes
texte
EXHIBITION OF THE ORGANIZATION MULTIREGARD
"Drag is an art, a way of life. Drag queens and drag kings are artists, having fought, and still fighting today to be recognized. Combining singing, musical comedy, humor, and above all, accompanied by a lot of benevolence, joy and... of glitter, drag shows are rich in color and good humor.
This exhibition retraces about a year and a half of shows of the association Broadway French, accompanied by some photos of the collective of artists La D.R.A.G. - Rigorous Direction of the Glamorous Approximations. These are many artists who allowed us to discover the world of drag, show photography, and especially extraordinary people."
- Coralie, President of the organization MultiRegard.