Image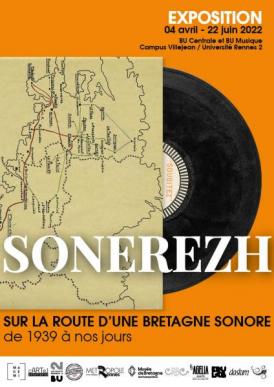 Contenu sous forme de paragraphes
texte
The promotion of the master 2 MAGEMI of Rennes 2 is proud to announce the opening of the exhibition SONEREZH. On the road of a sound Brittany, from 1939 to nowadays. Presented at the Central University Library and the Music Library of the Villejean campus, the exhibition is articulated in two parts, both independent and complementary, offering an overview of an engaging, rich and musical Lower Brittany. 
The Central University Library hosts the heart of the subject. This last one has for starting point an ethnomusicological collection realized in Basse-Bretagne, under the direction of the National Museum of Arts and Popular Traditions of Paris. The archives of this sound, photographic and film collection allow us to draw a portrait of the musical heritage of Lower Brittany in the 1930s.
For what reasons, for what purpose and how did this investigation take place? What does it reveal about the Breton culture and identity of this period? The exhibition proposes to shed light on the link that Lower Breton society has with music and dance, from the ethnomusicological mission of 1939 to the present day, through the Breton musical revivalism of the 1970s.
This revivalism movement takes so much scope that it leads to the inscription of Breton cultural practices on the list of the Intangible Cultural Heritage of Unesco in 2012, through the celebration of the fest-noz. The latter is highlighted in the space of the University Music Library, thanks to the exhibition of numerous posters of fest-noz from the collections of the Museum of Brittany as well as the free listening of traditional and contemporary Breton music within an intimate listening point.