Image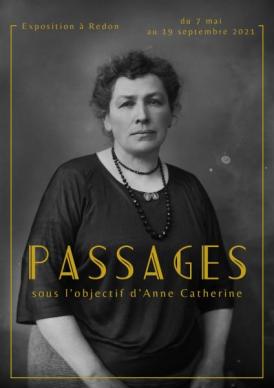 Contenu sous forme de paragraphes
texte
The 2020-2021 class of the Master 2 Management and Development of Works of Art, Ethnographic and Technical Objects (MAGEMI) is pleased to present Passages: under the lens of Anne Catherine.
This exhibition takes a new look at an emblematic figure of the city of Redon, the photographer Anne Catherine. Through three themes divided into three places: Anne Catherine: a portraitist in Redon on the green space of the Place Garnier near the Ciné Manivel, Anne Catherine: a look at the Pays de Redon on the Place de la Duchesse Anne and 14-18: a door on modernity on the Parvis de la Médiathèque. The exhibition's outdoor route allows visitors to connect Anne Catherine to her environment and discover her work while strolling through the town.
Following the death of her husband Louis Catherine in 1909, Anne Catherine took over their photographic studio alone. Under her lens, she immortalized the daily life of Redon society as well as people passing through. At the time she worked, photography occupied an essential place in society: the demand for it was constantly increasing, making Anne Catherine a key figure in the Pays de Redon.