Image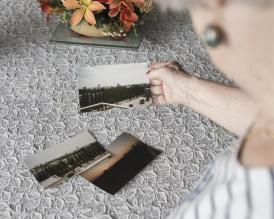 Contenu sous forme de paragraphes
texte
Photographs by Marc Loyon.
Looking at yourself "from one setting to another" is an opportunity to celebrate 50 years of living together between Rennes 2 University and the Villejean district. By taking a moment to look back in time and space, we are marking the university's 50th anniversary with a look at the shared history and destiny between the two entities. We invite you to join us for this open-air exhibition and unique artistic experience.
Rennes 2 was built and has grown with the Villejean district. Yet, there are several contrasts between these two worlds. The neighborhood's aging population interact with students often in their 20's or younger, housing options are mostly comprised of either long-term lodging or temporary student apartments, the south of the neighborhood is home to a majority of social housing for single-family homes...
This photographic series does not aim to produce a descriptive statement of these oppositions, but to direct the gaze towards an aesthetic representation of the development of these two territories. These different oppositions can be the source of exchanges, of an energy transmission, of a radiation from one medium to another.
The exhibition and residence of Marc Loyon, a photographer who grew up in Villejean, are organized as part of the 50th anniversary of Rennes 2. Find the complete program on the website.