Image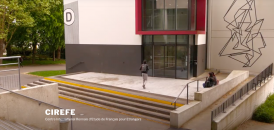 Contenu sous forme de paragraphes
texte
The International Mobility Center of Rennes (CMI Rennes), in partnership with the CIREFE at Rennes 2, will be offering courses in French as a Foreign Language for international researchers and doctoral students.
Organization:
44 hours of classes for each group, spread over 11 weeks at a rate of 4 hours per week.
Classes will take place twice a week, Monday to Thursday between 6:15 and 8:15 pm.
Classes start on Monday, January 25 until Thursday, April 15, 2021.
Location: CIREFE premises (Building D of Rennes 2's Villejean Campus) 
Currently, the courses are being planned to be held in the classroom. This, however, is subject to the changing health context. If the health context changes, the courses will be given remotely.
Online registration available until Sunday, JANUARY 10, 2021. 
More information is available on the CMI Rennes Website.