Image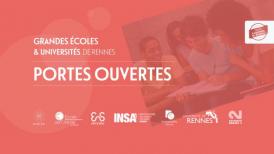 Contenu sous forme de paragraphes
texte
The Rennes 2 Portes Ouvertes Days (Open House) will be held at a distance due to the health context.
Dates:
Saturday, February 6th for the Mazier Campus (Saint-Brieuc) - programme to come.
Saturday, February 13 for the Villejean and La Harpe (Rennes) campuses - programme to come.
Thinking about studying at Rennes 2? The Open House Days are a privileged opportunity to exchange with professors, students and administrative staff in order to get informed about the academic programs, class descriptions, registration procedures, criteria for success, etc. During these days, it will also be possible to attend video-conferences and take virtual tours of the campuses.