Image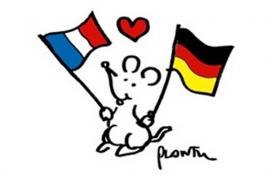 Contenu sous forme de paragraphes
texte
The first edition of the new quarterly European program in Saint Malo!
Included this quarter: the Maison de l'Europe and the City of Saint Malo invite you to a cultural meeting of German and Malouin European citizens around the Franco-German language.
On the program (from mid-October through early November):
From October 12 - 25, a photography exhibition "The road to German unity" dedicated to the reunification of Germany
On October 16, a Franco-German Rountable, with invited speakers
In November, be a part of the symbolic wall, on which participants will have the opportunity to write a short personal experience/anecdote relating to the question: What wall, invisible or invisible, would you like to see disappear?  
On Sunday, November 8, a day of films related to the fall of the Berlin Wall.
Roundtable Guests: 
Constance Le Grip, former Member of the European Parliament, Member of the National Assembly and Member of the Franco-German Parliamentary Assembly

Jeanne-Françoise Hutin, President of the Maison de l'Europe

Lionel Lebouc, Rennes 2 Erasmus mobility student - Dresden

Mathieu Belloir, STAPS student, also in a Franco-German studies program

Mr. Dieter Frieling, Former City Councillor of Plerguer

Mrs Christiane Dehn represented by her son, Corbinian, Local Business Owner in St. Malo

Martin Joslyn, Geography Professor and former teacher at the Chateaubriand high school in Rennes

 
You can send the speakers questions in advance at: europe [at] saint-malo.fr 
Free entry. Reservation and Information: 02 99 40 78 04
Image