Image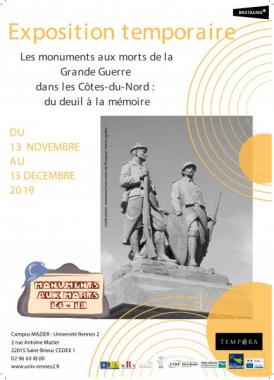 Contenu sous forme de paragraphes
texte
From November 13 to December 13
This historical exhibition was developed by Rennes 2 students, Lisa Diraison, Vincent Gouézel, Coralie Guého and Anne Pescher, of the degree  program "tourisme et marketing territorial et patrimonial" and with the help of History Lecturer, Yann Lagadec. 
With this project, the students examined the enhancement of monuments dedicated to the dead of the Great War in the context of memory tourism.
Throughout the 2018-19 academic year, the team studied archives, completed several field visits and finally designed and formatted the various panels of this exhibition.The students have also designed a visiting tour, from Saint-Brieuc to Saint-Connan, via Binic, Plouha or Pontrieux, that allows them to discover in situ about ten monuments with distinctive features..