Image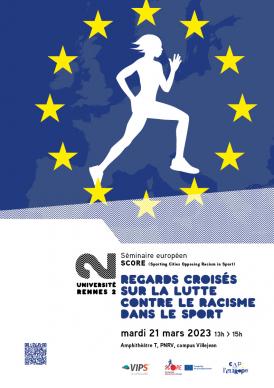 Contenu sous forme de paragraphes
texte
The main objective of the project SCORE is to create a coalition of European cities and local entities for the promotion of inclusive sport, as well as the prevention and fight against racism, xenophobia and related intolerance in sports.
It is within this framework that the VIPS2 research laboratory is organizing this European seminar which will present the preliminary results of an international survey on racism and discrimination in sports.
This questionnaire will take no longer than 20 minutes.
On the 21st of March: 
The seminar will present the results of the survey (taking into account the replies from all participants from several different European countries). The results will be presented in the form of an interactive map. The seminar will also share a number of different initiatives that are available to help combat racism and discrimination in sports at the European level. The participation of numerous social stakeholders and sports personnalities is also foreseen. The main objective is to gather experiences and get inspired by others!
Registration for the seminar is free of charge on the website: https://scoreproject.net.
The seminar will be held in English, with possible translation into French.