Image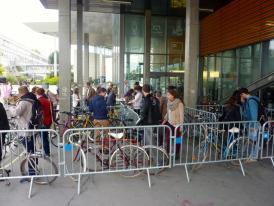 Contenu sous forme de paragraphes
texte
On Thursday, September 22nd, as part of the European Mobility Week, Rennes 2 will be offering various free activities to facilitate soft and sustainable mobility on the Villejean campus. Read on to find out what's being planned.
Second-hand bicycle market
Bicycle drop-off: 8-10am 
Purchase of bikes : 10am-4pm
Money or bike pick-up: 2pm-4pm
Sale/purchase of used bikes: All are welcome to come and sell their old bikes to students who have recently arrived in Rennes!
Interested sellers can drop their bikes off and Rennes 2 organizers will sell it for them without commission (price fixed according to the condition of the bike on the advice of the organizers). The organizers reserve the right to refuse any bike that is not safe enough to be put back on the road.
Engraving of anti-theft codes on bicycles
By the organization Rayons d'action
10am-4pm in front of Erève
Students and personnel are encouraged to come and have their bikes engraved to be able to find it more easily in case of theft (and to dissuade the ill-intentioned).
Identification required
Bicycle self-repair workshop "La roue libre"
By the student organizaton Ar Vuhez
1pm-4pm - Bicycle workshop (near the stairs of building B)
The organization also lends students necessary tools and advises them on how to best maintain and repair their bikes. They also can find used or new parts at a low price.
Transport operators 
The STAR (bus and metro operators), Breizh Go (bus), SNCF/TER and Citiz Rennes Métropole networks will be present: get information on Korrigo cards, subscription purchases, PDM subscriptions, Pass Mobilité...
Let's go for the "Tous mobil'acteurs" challenge! 
From today until October 2nd, we will once again be involved with Rennes Métropole in the Tous Mobil'acteurs challenge. The objective is ambitious but within our reach: to cover the distance between the Earth and the Moon by walking, cycling, public transport, carpooling or carsharing! 
Participation is via the Mobilacteurs application available on the IOS and Android store. 
It is possible to participate alone, but this activity is more fun with several people, so call your friends and create a team! Everyday trips made by walking, cycling, public transport, carpooling and carsharing, during the day, evening or weekend earns points, allows one to pass levels, and challenge colleagues, friends and other companies involved in the challenge.
Those who enter will be eligible to win gifts.